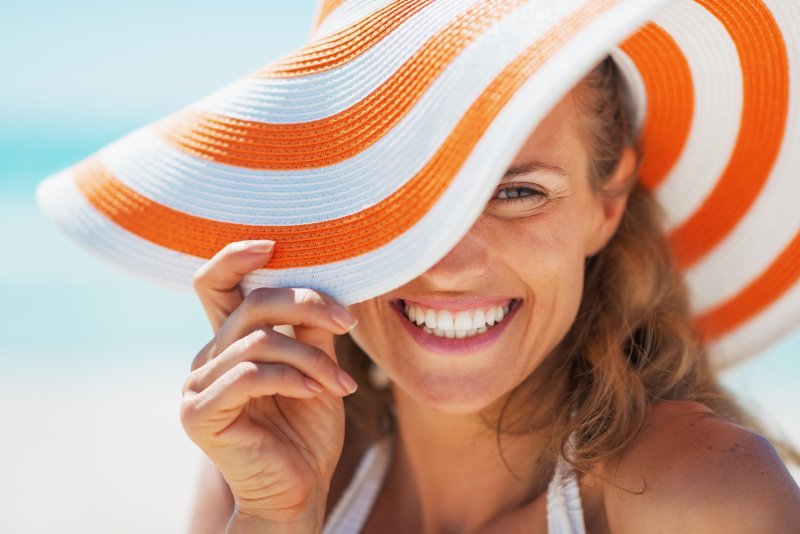 Summer is drawing to a close, which means that now is your final chance to hit the beach and make an impression. You might be in the process of buying a new swimsuit or trying to get your ideal beach body, but what's just as important is getting a beach-ready smile.
While daily dental hygiene is critically important, the secret behind some of the most beautiful smiles is cosmetic dentistry. There are several treatments that can completely change the look and feel of your teeth. Here are a few of the most common, and how they could help you quickly revitalize your smile.
Start to Shine with Teeth Whitening
Teeth whitening does just one thing, but if you want to quickly and radically change the color of your smile, it's hard to beat. Dentists offer professional whitening kits that can allow you get a smile up to eight shades whiter than it was before, all from the comfort of your own home.
The procedure is easy and painless, meaning that there's nothing to really stand in the way of getting a beach-ready smile.
Patch up Cracks With Direct Bonding
Even if you're happy with how your smile looks for the most part, having just a small chip or crack in your teeth can seriously sap your confidence. Direct bonding is perfect for this kind of situation. Your dentist can make use of a composite resin by spreading it onto your teeth then using a specialized light to harden it into place.
It's simple, but within just one appointment this procedure can make a massive difference in the way that your smile looks to others.
Stun Everyone with Veneers
If you've ever wondered how Hollywood celebrities get those perfectly white, perfectly straight teeth, veneers are often the answer. Your dentist can layer thin shards of porcelain onto your teeth to cover up anything that may bother you about the shape, color, size, or alignment of your teeth.
If you want a smile that will make your beach selfies look like they belong in a magazine, it's hard to go wrong with veneers.
About the Author
Dr. Lindsey Hammond is a dentist who loves not only providing her patients with immaculate dental care, but also getting to know them as individuals and forming relationships with them based on incredible oral health. Dr. Hammond received her degree from the University of Oklahoma College of Dentistry, and she stays up-to-date with oral medicine via her membership in the American Academy of General Dentistry.
If you have any questions about how to improve the aesthetics of your smile, she can be reached at her website or by phone at (918) 254-8686.