Replace Missing Teeth – Tulsa, OK
Make Your Smile Complete with Reliable Tooth Replacements
As we age, the risk of tooth loss only goes up. While tooth loss is more common for those who are older, people can lose teeth at any age. Its long-term implications can be quite debilitating for your day-to-day life, which is why Dr. Hammond always recommends patients review their tooth replacement options the moment they learn a tooth needs to be extracted or goes missing. There are many solutions available to you if you need to replace missing teeth in Tulsa, and Glisten Dental Care of Tulsa is happy to help you decide the best one for your long-term oral health!
Why Choose Glisten Dental Care of Tulsa to Replace Missing Teeth?
Start-to-Finish Dental Implant Treatment
Customized Full Mouth Reconstruction Plans
Highly Personalized Results Using Modern Technology
Why Is It Important to Replace Missing Teeth?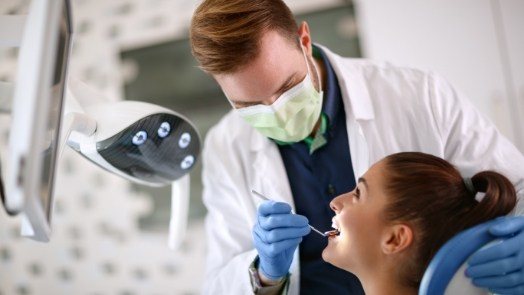 Once teeth are removed, they are gone completely. The only way to rebuild your smile again is to replace missing teeth, either with a bridge, dentures, or dental implants. The longer you wait to replace missing teeth, the more your jawbone tissue begins to break down (or atrophy) as it's no longer being stimulated by the tooth root. Not only can this increase your risk of losing additional teeth, but your facial shape begins to change as well as your bite alignment. By replacing teeth, you do your long-term oral health a big favor, not just your smile.
Dental Bridges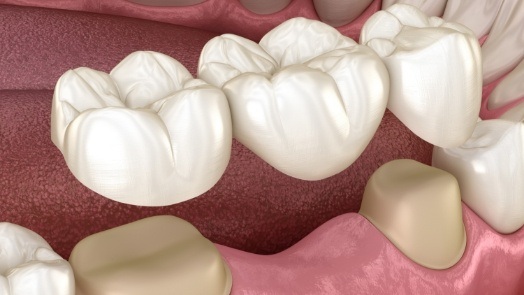 Are you struggling with tooth loss? You're far from alone. In fact, over 120 million Americans are missing at least one permanent tooth. Fortunately, high-quality, extremely durable, incredibly lifelike tooth-replacement solutions, like dental bridges, are available to meet this need. Not only are they able to fill the gap in your smile for good, but they completely restore the function as well. So, if you are having difficulty smiling confidently, chewing easily, or speaking clearly, don't wait to ask about this modern, cost-effective option.
Learn More About Dental Bridges
Dentures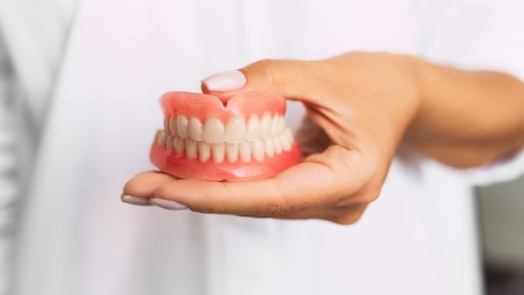 In some cases, missing teeth may be best replaced with a partial or full denture appliance. Partial dentures are designed for the replacement of a few teeth when most of a patient's natural teeth are intact. Customized to suit the patient's facial contours and coloring, a partial denture appliance is affixed to a few natural teeth with the use of clasps. When all teeth are lost or need to be removed, a full denture appliance can restore a beautiful and functional smile. As with partial dentures, a full denture appliance is custom-made to fit snugly against the existing jaw structure and gum tissue.
Dental Implants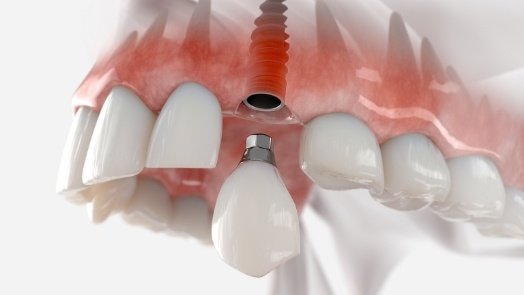 Following the loss of even one tooth, our team is here to help you fully restore your smile from the roots up using dental implant-supported replacement teeth. Dental implants are small, titanium posts that fuse with the supportive bone and gum tissue, recreating healthy tooth roots and delivering long-lasting, self-supporting tooth replacement solutions. Depending on the number and location of missing teeth, we can use a single implant with a dental crown or two or more implants to support a fixed bridge, partial, or full denture, recreating healthy, beautiful smiles. The dental implant tooth replacement process is completed over the course of several phases of treatment, but in many cases, the results will last decades.
Full Mouth Reconstruction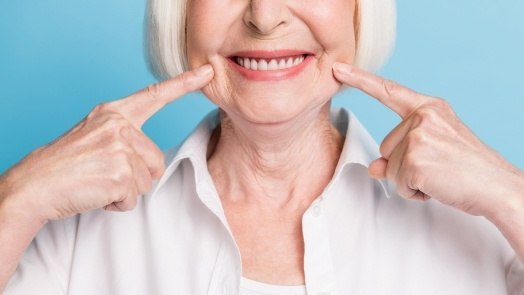 If you need to have multiple restorative dental treatments completed to repair your smile, we may recommend a full mouth reconstruction plan to get it done. This plan is made up of several procedures and evaluates the entire health and function of your smile to protect your long-term well-being. Common treatments we include in full mouth reconstruction plans are dental fillings, crowns, dentures, dental implants, oral surgery, veneers, gum disease treatment, and Invisalign.