Teeth Whitening – Tulsa, OK
A Brilliant Smile for Added Confidence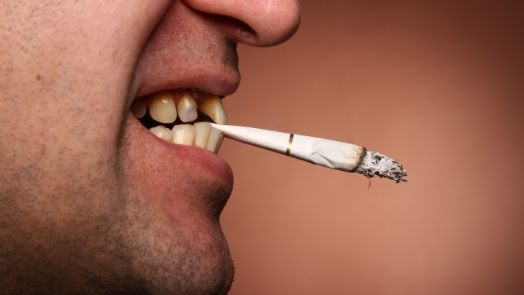 Why do teeth stain?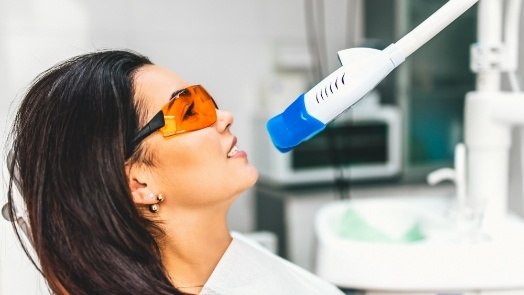 Your tooth enamel is the strongest material in your body, but it is also slightly porous. As a result, it can absorb and be affected by the substances that it is exposed to. Tobacco use has long been shown to significantly stain teeth, for example. If you drink coffee, red wine, or soda and eat other highly pigmented food, trace amounts seep into the enamel and eventually stain your teeth over time. Also, certain medication can cause your teeth to appear more discolored. Ultimately, as you age, the enamel can naturally wear down, showing the more yellow layer of dentin beneath it.
What are the types of teeth whitening?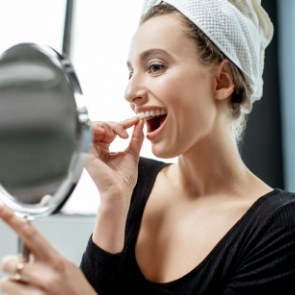 Store-bought teeth whitening toothpastes and other products may be advertised as powerful solutions to drastically change the color of your teeth, but you'll find that they maybe brighten your smile by only a couple shades. Professional treatment with Glisten can provide the noticeable results you're looking for.
Take-Home Whitening
The main appeal of commercial whitening is that you can do it in your own home when it's convenient for you. Well, take-home whitening allows you the freedom and flexibility to whiten your teeth at home while still giving you the strength of professional-grade peroxide.
For many years, teeth whitening has been performed at home using professional grade products and customized whitening trays. This method is still popular today, producing a brilliantly white smile that cannot be attained with commercial whitening strips. Within a period of about two weeks and consistent, nightly application of whitening gel, teeth will look as white as they would after an in-office treatment.
KöR Deep Bleaching
One of the most effective teeth whitening systems in cosmetic dentistry today is the KöR Deep Bleaching system. This multi-faceted approach begins with an effective in-office session that produces dramatic, immediate results in just about an hour. A follow up to this initial boost of brightness comes with an at-home system that keeps teeth looking their best for months on end.
The KöR system is different from other teeth whitening methods in the amount of predictability in producing results in even resistant stains. KöR has also shown itself to be a method that produces little to no tooth sensitivity, as many other teeth whitening systems do.
How long do teeth whitening results typically last?
After you whiten your teeth, you'll be able to keep the results longer if you avoid the things that caused the stains in the first place. For example, the more you stay away from pigmented food and drinks, using tobacco, or other damaging oral habits, the more likely you are to hold onto your newly whitened smile. However, it is impractical, and not very nutritious, to steer clear of all colored food, so within a few years, staining will likely return. The good news is that you can easily get take-home refill solution with us at Glisten and touch up your teeth as needed, keeping your smile bright for years to come.
You deserve to feel great about the appearance of your smile. If your teeth could use a boost, contact us to find your best teeth whitening solution.