Veneers – Tulsa, OK
Beautifully Transforming Smiles for Boosted Confidence
Do you have flaws or imperfections in your smile that you wish would just disappear? At Glisten Dental Care of Tulsa, we have the answer! Dental veneers can conceal and correct a wide range of cosmetic dental issues. We typically craft them from porcelain because this material has proven to be resistant to stains, extremely durable, and highly aesthetic, looking very much like natural enamel. The dental laboratory with which Dr. Hammond works offers several choices in porcelain, allowing our patients to attain their most naturally attractive smiles. Keep reading to learn more about veneers in Tulsa and how you can benefit from receiving them.
Why Choose Glisten Dental Care of Tulsa for Veneers?
Precisely Crafted Using Digital Impression Technology
Natural-Looking, Durable Dental Materials
Caring Dentist That Listens to Your Needs
What Are Dental Veneers?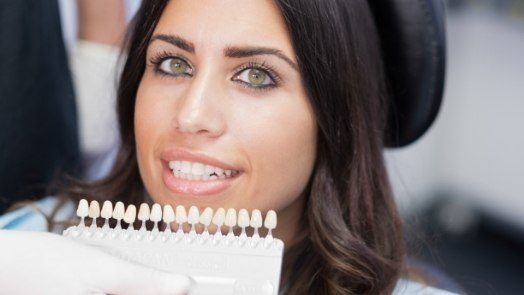 Our veneers are custom-made to match the size, shape, and color of your natural teeth, transforming imperfections into beauty. We offer two different types of veneers, and our recommendation will depend on your specific needs and the condition of your smile.
Traditional Veneers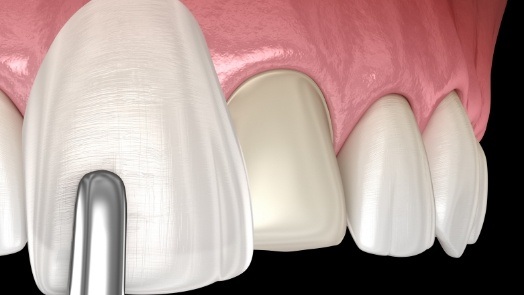 Veneers are thin shells of dental porcelain or ceramic that are bonded to the front surfaces of your teeth to correct a variety of cosmetic flaws. This process usually requires the removal of some dental structure to accommodate your veneers. We will remove a slight portion from each tooth to allow your veneers to easily bond to the front surfaces.
Minimal-Prep Veneers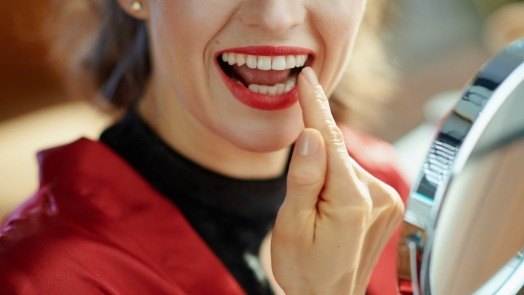 This approach allows us to give you a beautifully transformed smile while barely altering your natural teeth, if at all. We will typically recommend this treatment for patients with small gaps, spaces, misshapen, small, or short teeth. While this treatment does conserve more of your dental structure, it can't always achieve the same level of aesthetics that traditional veneers can.
The Veneers Procedure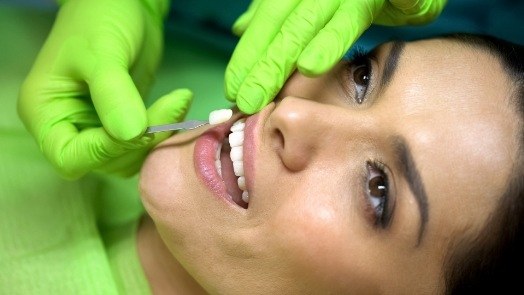 Your procedure will vary based on the type of veneers that we recommend. Typically, the process takes two visits: the first to prepare your teeth and the second to place your custom-made veneers. These appointments are usually scheduled about two weeks apart, which is the time it takes for your veneers to be fabricated. Once you come in for your second appointment, we will ensure that you're happy with your results before permanently placing your new smile.
The Benefits of Veneers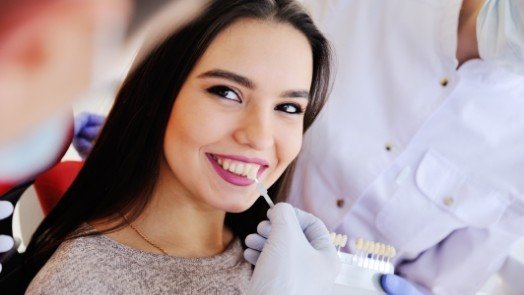 We offer veneers because of these unique benefits:
Because they are designed to cover the entire front surface of each tooth, veneers can be used to correct numerous cosmetic flaws all at the same time.
Dental porcelain is relatively stain-resistant, which makes it harder to stain your new smile.
Veneers can be used to correct misshapen, cracked, chipped, slightly gapped, crooked, or permanently discolored teeth.
With a variety of options for veneers, we can provide you with the cosmetic treatment that works best for your needs.
Veneers FAQs
Before you commit to getting dental veneers, you want to ensure that you are well-informed about the procedure. Here are the answers to some of the most frequently asked questions we receive about veneers. If you don't see your question listed below, don't worry. Just give us a call or schedule a consultation with us. We'd be happy to provide you with the information you're looking for.
Are veneers permanent?
Veneers aren't technically permanent because they do need to be replaced. However, they are irreversible. To make sure your veneers fit properly, a small amount of protective enamel needs to be removed, and this does not grow back. Because of this, teeth that are prepared this way will always need to be covered with either crowns or veneers.
Is there anything I can't eat with veneers?
When you wear temporary veneers before the permanent ones are complete, you will need to avoid harder foods like ice, raw fruits and veggies, and hard candies. It is also a good idea to avoid sticky foods that can adhere to the temporary veneers. Once you have your permanent veneers placed, you can enjoy almost anything, but it is still a good idea to practice some caution with harder foods. If your teeth are sensitive after veneer placement, stay away from anything that is particularly hot or cold.
How are veneers different than crowns?
Veneers are thin shells that are only about 1 millimeter in thickness, while crowns are shaped like the entire tooth above the gumline and are about 2 millimeters in thickness. Instead of being placed over the whole tooth, veneers only cover up the front surface that you see when you talk or smile. Generally, veneers are used as a cosmetic solution or for minor shape corrections as opposed to protecting the tooth from further damage like a crown would.
Do veneers feel like real teeth?
Many patients report that when veneers are placed properly, they feel completely natural in their mouths. They don't even notice them when they are speaking or chewing their food. This is because veneers are carefully crafted to fit perfectly on the teeth after a small portion of enamel has been removed. The enamel removal prevents the restoration from appearing bulky and feeling uncomfortable. Porcelain is very smooth and doesn't irritate the soft tissues inside the mouth.
How many veneers will I need?
Ultimately, the goal is for all of your visible teeth to match, so you will receive the appropriate number of veneers to do this. Some people get a single veneer to cover up a cracked, chipped, or broken tooth while others will get 6, 8, 10, or 12 to create a beautiful, symmetrical smile. It all depends on your unique smile goals.