Dental Crowns – Tulsa, OK
Strengthening & Beautifying Compromised Teeth
Despite your best efforts, decay can penetrate through the outer layer of your teeth, resulting in extensive damage. When this happens, your teeth need some extra reinforcement to get back to full strength. That's where dental crowns come in. At Glisten Dental Care of Tulsa, we offer only the best restorative dentisry options so that our patients can keep their smiles happy and healthy. So, don't go another day suffering from oral pain or a toothache. Instead, get in touch with our team to see whether a dental crown in Tulsa is right for you!
Why Choose Glisten Dental Care of Tulsa for Dental Crowns?
Advanced Digital Dental Impression System
Natural-Looking Dental Materials Used
Kind and Compassionate Dentist and Team
What Are Dental Crowns?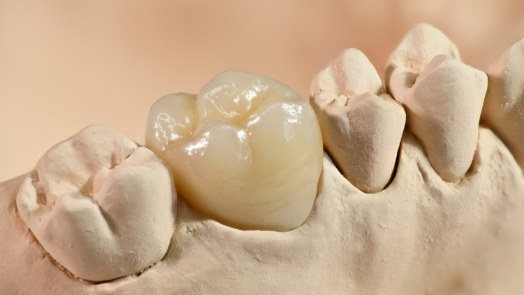 A dental crown is a dental prosthetic that is placed over an existing tooth or a dental implant to replace the part of the tooth that is above the gumline, called the crown. As both a functional and aesthetic restoration, a dental crown is made to act and look natural. As a result, it is cemented in place and can only be removed by your dentist.
Treating a tooth with a dental crown is simple. If necessary, Dr. Hammond removes decayed areas of the tooth or prepares the tooth for the crown by removing some of its structure. Then we take an impression of the altered tooth. This mold is used by a dental lab in the fabrication process, creating a crown that will fit well against the surrounding teeth, as well as look natural. Before the completion of this initial visit, a temporary crown will be cemented into place to protect the prepared tooth while the permanent crown is being made.
What Are the Benefits of Dental Crowns?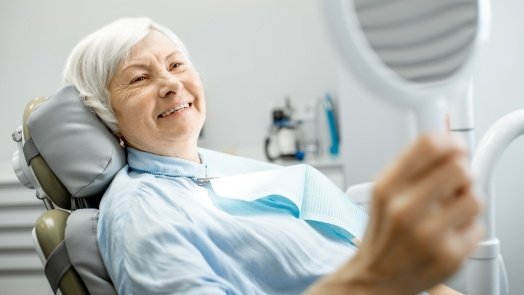 Since dental crowns in Tulsa are custom-made from high-quality porcelain and other natural-looking materials, they provide patients with several benefits, including:
Realistic appearance: The shade of porcelain or ceramic is meticulously blended to seamlessly match the surrounding teeth. Plus, the outer coating mimics enamel flawlessly – even down to the way light bounces off it!
Durability: Like your natural teeth, your dental crown is designed to withstand normal wear and tear so you can eat your favorite foods worry-free!
Stain-resistant: Dental crowns are lifelike in look and feel, but they have one important advantage: they are resistant to stains.
Longevity: With proper care, dental crowns can last 10+ years! Just make sure to follow a solid at-home oral hygiene routine, avoid poor dental habits (like smoking), and always attend your biannual checkups and cleanings.
How Do I Know If I Need a Dental Crown?
Did you know over two million dental crowns are placed each year? Although this versatile restorative treatment can be used to effectively address many dental concerns, they are often recommended to:
Replace a large filling
Prevent a weak tooth from breaking
Restore a fractured tooth
Cover a dental implant
Protect a tooth that had root canal treatment
Our talented team has extensive experience in dental crowns and can provide the care you need to get your smile back to full health. Contact our office today to schedule an appointment!