Invisalign – Tulsa, OK
Clear Braces for Beautiful Smiles
Right now, about four million Americans are wearing braces. That's a lot of people who have made the decision to invest in the health and beauty of their smiles. In the past, that choice meant brackets cemented to tooth enamel, noticeable connecting wires, and uncomfortable tightening visits every few weeks. Today Dr. Angie Nauman and the Glisten Dental team bring options to residents of the Tulsa OK area. A terrific one is Invisalign "invisible" braces. At Glisten Dental, we offer clear alignment tray orthodontic treatment using the Invisalign system for Tulsa area patients. If you're ready to start straightening your smile, Call Glisten Dental today to learn more about how Invisalign invisible braces are changing Tulsa OK smiles.
Benefits of Invisalign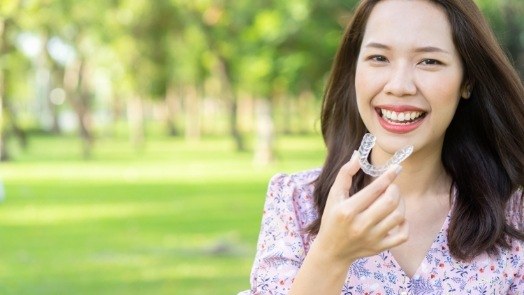 Invisalign has a number of benefits over traditional orthodontic metal bracket and wire braces, including:
Comfort
Wires and brackets can be uncomfortable, and they may scratch the inside of a patient's mouth. Invisalign aligners are smooth and easy to wear.
Affordability
In most cases, the price of Invisalign orthodontics is comparable to traditional braces. Many patients prefer to go with Invisalign due to the number of advantages they have over the alternative.
Beauty
Instead of hiding teeth behind metal, patients are able to showcase their smile throughout their treatment. The clear aligner trays are discreet, making them a great way for adults and teenagers to avoid embarrassment while undergoing orthodontic treatment.
Ease of Use
Invisalign aligner trays are easy to remove and to wear. They can be removed when a patient is brushing, flossing, or eating. Then, snap them back in place.
Effective
Invisalign has been proven over the years to make dramatic improvements in a patient's smile. The trays move the teeth into their proper positions, and alignment can be maintained by continuing to wear the final tray overnight as a retainer. Invisalign can be used to straighten all teeth in the mouth, including readjusting a patient's bite.
Improving Smiles with Invisalign
Invisalign is based on a very different concept from traditional braces. A robust computer software system turns impressions of your mouth into three-dimensional images, projecting the changes you want to see in your smile. A series of transparent plastic aligners (something like mouth guards) is created to move teeth progressively into proper position over about a year of treatment. For many adults and teens, Invisalign is the ideal treatment option, but to find out whether or not it's right for you, you'll need to schedule an Invisalign consultation.
Your Invisalign Consultations in Tulsa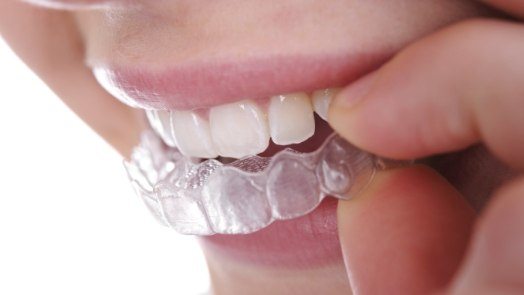 Dr. Nauman offers complimentary Invisalign consultations to get your orthodontic treatment process started. She listens carefully to your concerns and makes a thorough examination of your mouth to determine if you are a good candidate for Invisalign. If you have existing dental problems such as gum disease or cavities, we'll resolve them before treatment. If she determines Invisalign is a good option for you, Dr. Nauman gets started right away by taking impressions of your bite and sending that information to the Invisalign lab. The manufacture crafts customized Invisalign aligner trays that are fabricated with durable, medical-grade plastic.
How Does Invisalign Work?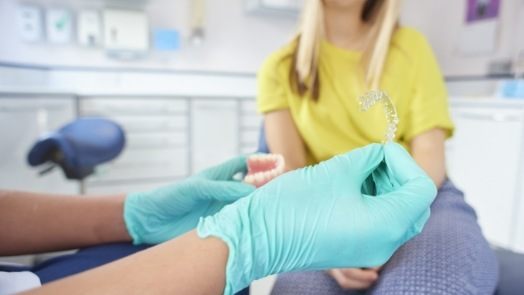 Your treatment begins a few weeks after your consultation when you return to our dental office to start straightening your smile. Invisalign trays are made in a series, and each tray is worn for approximately two weeks. The patient then switches to the next one in the series until the treatment is complete. During your initial Invisalign visit, Dr. Nauman explains the importance of adhering to the treatment plan. Your aligner trays are removable, so you can take them out to enjoy your favorite foods and to keep your mouth sparkling clean. Just make sure to wear them for at least 22 hours each day. Dr. Nauman will also show you how to place and care for the clear aligners. During regular visits, Dr. Nauman monitors your progress, but these appointments are not as frequent as checkups for conventional braces. Every patient is different, but typical treatment time is about 12 to 18 months with Invisalign.
Understanding the Cost of Invisalign
Are you looking to get on a path towards a straighter smile? Invisalign may seem like the perfect option out there. It has so many benefits that you can't find anywhere else. However, it is essential that you understand the cost of treatment, as you don't want any unnecessary surprises when you receive your bill. To learn more about how much Invisalign will cost, schedule a consultation with us! In the meantime, here are a few things to keep in mind.
Factors that Affect the Cost of Invisalign
The cost of Invisalign varies from person to person, as every case is very different. Here are some of the factors that are taken into consideration when determining the cost:
Number of Arches: Most people who undergo Invisalign treatment will straighten both arches simultaneously. However, in some cases, only one arch needs to be corrected. If you only need one arch addressed, the cost will be lower.
Complexity of Treatment: There are all sorts of misalignment issues out there, and some are more complex than others. If you have more severe alignment issues, your treatment will likely cost more.
Length of Treatment: A longer treatment time means additional aligners and a higher overall cost.
Invisalign VS Smile Direct Club™: Which Costs More?
When a patient is looking for a "quick fix" for their misalignment issues, low-budget options, like Smile Direct Club™, may be tempting. However, a lower cost doesn't mean that it is a better option. Even though the cost of treatments similar to this are typically lower than Invisalign, they have a "do it yourself" approach with little oversight from a professional. This means more room for error. You could even end up with serious issues that would need to be treated by a professional in the future anyways. Ultimately, you could end up spending more in the long run.
Does Dental Insurance Cover Invisalign?
Some dental insurance plans will include coverage for orthodontic treatment, so it's definitely a good idea to check with your provider so you know exactly what's included. We are proud to be in-network with numerous popular insurance carriers. If you need help understanding how your plan works, talk to one of our friendly team members!
Options for Making Invisalign Affordable
Just because you don't have dental insurance doesn't mean that you are completely out of luck when it comes to paying for Invisalign treatment. We work with CareCredit – a third-party financing company that can split the cost of your treatment into manageable monthly installments with little-to-zero interest included. Achieving a healthier smile shouldn't mean stressing over the cost.
We're eager to help you achieve the smile of your dreams, so schedule a consultation with us today. This way, we can examine your unique smile and discuss the financing details of your treatment!