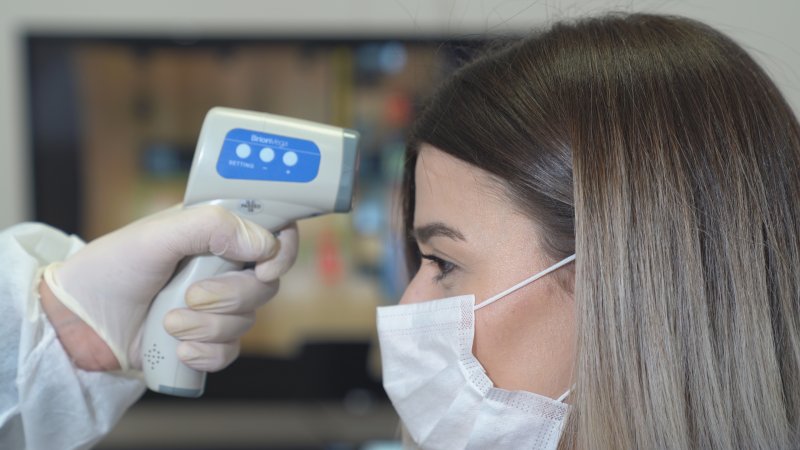 If you've been to the dental office recently, you probably had your temperature taken among a few other precautions. But this leaves you with plenty of questions. Why do you have to have your temperature checked? Why do you have to leave your gloves in the car? Why is a mask necessary for you to come into the office? It may seem like a lot to take on all at once, but these precautions are here to help keep the community safe, even if some of them seem silly at first. Read on to see what a dentist in Tulsa has to say about these questions about COVID-19 dental safety precautions so you can see why they're so important.
Why Do You Need to Wear a Mask?
One of the many new things we've had to comply with this year is wearing a mask when in public places. While this has been strange to get used to, this precaution is out there for good reason! Masks can be worn to protect both the wearer and protect others from the spread of illnesses. One of the main ways that COVID-19 spreads is via droplets that exit the mouth when coughing, sneezing, and speaking. These tiny airborne particles can then be breathed in by others, causing them to contract the virus. By wearing a mask, you are providing a barrier between yourself and others, preventing many of these droplets from escaping into the air. Even if you don't know that you're sick yet, you could still be contagious, so this is an important precautionary measure to take.
Why Can't You Wear Gloves in the Dental Office?
You may think that wearing gloves is helpful at preventing the spread of COVID-19, but this isn't always the case. In fact, the Centers for Disease Control and Prevention suggest only two situations where you should be wearing gloves to protect yourself against the virus. This is when you are cleaning and disinfecting your home or if you are a healthcare worker who is treating someone who is a suspected or confirmed COVID-19 patient. This is because you do not contract COVID-19 through touch alone. To become sick, you could need to touch something that is contaminated and then touch your face. Even though gloves provide a barrier, you can still become sick by touching your face with your gloved hand.
Why Is Your Temperature Being Taken at the Dentist?
When preventing the spread of illnesses in any establishment, screening is very helpful. Because a fever is one of the many symptoms that someone with COVID-19 may have, it is best to check to ensure that a patient does not have a fever before making further contact. Someone who has a fever may be feeling fine and not even know that they are sick. However, a fever could indicate a viral infection. While a fever on its own does not necessarily mean that the patient has COVID-19, it is better to be safe than sorry at this time.
These new COVID-19 dental safety measures may seem overboard, but they are intended to help keep you, your family, and your dental team healthy!