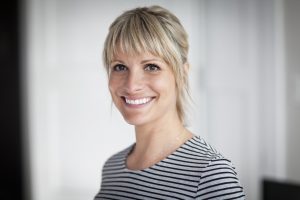 There are some things that we notice about ourselves that others may not even pay attention to. Although many of our patients have beautiful natural smiles, they notice flaws that need to be repaired or covered. Our dental team is more than happy to help boost our patient's confidence with a simple cosmetic procedure: porcelain veneers in Tulsa.
Have you ever heard of porcelain veneers?
Porcelain veneers are super thin, tooth-shaped pieces of high-quality dental ceramic. They are individually crafted according to specific instructions from your cosmetic dentist in Tulsa. She uses oral impressions, digital X-rays and photos to help a master ceramist from an outside dental lab create a three-dimensional model of your teeth. Using the model, the ceramist artistically sculpts the ceramic shells for perfect fit, color, and shape. You'll be amazed how accurate the results are to your natural teeth!
What do veneers do?
Dental laminates cover and re-create the front side of one or more teeth that are covered with one or more flaws like these:
Hairline cracks
Worn enamel
Chips and pits
Congenital defects such as irregular shape or small size (when compared to surrounding teeth)
Spacing problems such as small gaps and mild overlapping
Deep discolorations caused by coffee, darkly colored foods, smoking, chewing tobacco, certain prescription medications and other stains that are not responsive to professional teeth whitening
What's the procedure like?
First, she will examine your teeth to be sure they are free of tooth decay, extensive restorations, and gum disease. She removes a small amount of enamel (about ½ millimeter—totally not detrimental to your oral health) from the front side of each healthy tooth. This comfortable procedure ensures the veneers will fit properly in your mouth after placement.
At the next dental visit, your dentist etches your teeth with a special liquid so the veneers adhere well to the enamel. Then, she carefully bonds the veneers in place. The dentist adjusts the bonding cement for perfect color and the veneers for proper bite, shape, and size.
What is the Result?
Porcelain veneers produce sparkling smiles that are very natural-looking. Your smile will be bright, white and even, but the change will be appropriate to your facial structure, age, and other aesthetic considerations. In other words, porcelain veneers will be the secret behind your exceptional smile.
Regarding daily oral hygiene, simply brush and floss your teeth as usual, and see Dr. Schutte, McKnight or Konz for a routine exam and cleaning every six months. Additionally, avoid chewing hard foods such as ice and non-food items such as your fingernails. (These things can damage any of your teeth.) With good care, your porcelain veneers will remain in place and improve your smile aesthetics for years.
Do You Want to Improve Your Smile?
Do you think porcelain veneers or possibly even another cosmetic procedure is right for you? Explore the many possibilities at Glisten Dental. Why not contact the office today for a personal consultation on porcelain veneers? We'll have your brand-new smile placed in no time!