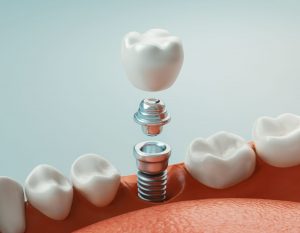 While dental implants are often considered the ideal treatment to replace a lost tooth, not every patient is a good candidate for them right off the bat! There are instances in which certain factors could hold you back. You may be asking yourself why. After all, dental implants have a success rate of over 95%. Not only that, but they function more like real teeth than any of the other options. However, some other pre-existing conditions can hinder those seeking this kind of restoration. Keep reading to learn 4 issues that get in the way and how your dentist can help!
Issue #1: Gum Disease
Though dental implants are typically hugely successful, they won't be if they're inserted into a germ-ridden mouth. If you have untreated gum disease, then there are plenty of harmful bacteria present that could contaminate the surgical site of an implant. This increases the risk of infection and therefore implant failure. The good news is that you can likely proceed with replacements once you get the gum disease taken care of.
Issue #2: Not Enough Jawbone
In order for dental implants to root properly, your jawbone needs to grow around and fuse with the implant post. However, when we lose teeth, our bodies reabsorb the bone mass left behind because it's no longer needed. This weakens our jawbone to the point that it can't effectively support replacement teeth.
Fortunately, if your jawbone isn't dense enough now, that doesn't mean it will never be. In some cases, your dentist can offer a bone graft or sinus lift to reinforce your jawbone. These advanced treatments add bone tissue to the lacking area to strengthen it. Once that heals, then your dentist can move forward with your dental implants.
Issue #3: Other Medical Conditions
Some medical conditions, like osteoporosis or diabetes, impact your body's ability to be receptive to implants. Your dentist will therefore need to know your medical history and any current prescriptions you're taking. They want to make sure your dental work doesn't negatively impact your overall health! If needed, they can work with your general practitioner to get your overall health back on track so you can be a candidate for dental implants.
Issue #4: Bad Habits
If you regularly participate in habits that could harm a dental implant, then it's more likely yours will fail. If you smoke regularly or skip brushing and flossing daily, then there's a high chance that your restoration won't stick. The good news is that it's never too late to include a healthy oral hygiene routine in your regular schedule. If you keep that consistent, you should be a viable candidate for dental implants.
If any of these sounds like you but you're still set on dental implants, contact your dentist. They can walk you through options based on your specific circumstances. Often these types of setbacks can be turned around. Even if some additional work is required, like addressing any unhealthy bacteria or habits, it's worth it in the end! You'll have a new replacement tooth that looks and functions just like a real one.
About the Author
Dr. Lindsey Hammond is a Tulsa native who earned her undergraduate degree from the University of Oklahoma and her dental doctorate from the University of Oklahoma College of Dentistry. She has 20 years of experience and ongoing education that allow her to provide many services under one roof from start to finish, including dental implants! If you'd like to make an appointment, feel free to contact the office on our website or by calling (918) 254-8686.