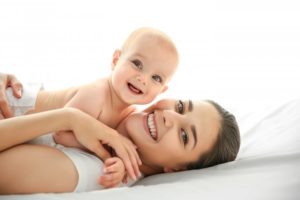 Breastfeeding can be difficult for many various reasons. It's an intimate connection between the mother and the child, but there could be several factors stopping your baby from latching on—including a tongue tie! That's right, your baby could be victim to a restricted frenum—a common dental issue that your Tulsa dentist can help solve at Glisten Dental & Sleep Apnea Care.
What is a frenum?
The frenula are small strings of tissue that can be found in different parts of the mouth. In particular, frenula can be found underneath the tongue. When a baby is developing in the womb as an embryo, the frenula help the baby's mouth develop and grow proper mouth structures. Once babies are born, they virtually serve no other purpose and can get in the way of your child's mouth from developing or developing a "tongue tie."
What are the symptoms of your child's tongue tie?
When you look at your child's tongue or how they latch to eat, do you notice some difficulty? The symptoms of tongue tie that you can look out for include:
the tongue can't poke out past the lips
the tongue tip can't touch the roof of the mouth
the tongue can't be moved sideways to the corners of the mouth
the tongue tip may look flat or square, instead of pointy when extended
the tongue tip may look notched or heart-shaped
The front teeth in the lower jaw may have a gap between them
Failure to gain weight
Fussiness after being fed (a sign that they're still hungry)
A shallow latch-on
Loud clicking sounds while breastfeeding
How can Glisten Dental & Sleep Apnea Care help you and your family?
When it comes to a disruptive frenulum, your children's dentist in Tulsa can help your child's quality of life improve. Although no parent likes the idea of performing a surgery on their child, this oral procedure is painless and virtually invasive.  Using a dental laser, Dr. Nauman can make a small incision to detach the frenulum from the tongue. An anesthetic is sufficient enough to complete the very quick procedure. Dr. Nauman is so confident in her ability to improve both your child's life but yours too because she knows both how it feels to perform the procedure but also to be the parent with the child getting oral surgery. That's right, she performed her first frenectomy on her own daughter! Obviously, it was successful and helped her child's mouth develop properly.
When should my child get a frenectomy?
Although this procedure can take place at any age, Dr. Nauman prefers to conduct one while the patient is still an infant. Once a patient has aged a bit more, the recovery time may take longer. But, as an infant, the breastfeeding and skin-to-skin contact can help the baby to recover painlessly.
If you're interested in improving your baby's breastfeeding, a frenectomy may be the answer to helping your baby eat more and develop properly. You can also avoid orthodontic issues as your child gets older and speech difficulties. Contact us today to schedule a consultation with your little one.