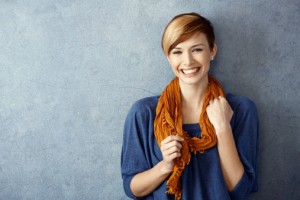 When you smile, do you do it with confidence? Are you proud of your pearly whites or do you wish they could look a little whiter and brighter? Luckily for you, the team at Glisten Dental employs the best cosmetic dentist in Tulsa, OK: Dr. Angie Nauman. Our cosmetic and additional dentistry services will give you the smile you deserve, so hold your head up high and smile big so everyone can see what you're working with. Trust your teeth to us!
There are a lot of reasons why you should visit us in Tulsa. We could go on and on about why we are Tulsa's premier dental office, but we decided to go with the five best reasons as to why you should give us a shot.
1.) Our office is equipped with the latest tools that will produce the best results in the most comfortable, safe, and efficient manner. From electric drills that produce less vibration to iPads, intraoral imaging and digital x-rays, you'll experience state-of-the-art technology that will do wonders for your mouth.
2.) When you're here, you're a part of our extended family. The services that we provide stem from a deep commitment to the provision of the utmost in dental care, and a commitment to personal excellence.
3.) Dr. Angie strives for perfection in the work she performs with our patients. She continually invests her time in education and training so that our patients may experience dental care like never before.
4.) A comfortable atmosphere: Our office is designed to be a calm, peaceful environment, equipped with massage chairs and televisions in our treatment rooms. Our patients are treated to soft music, warm blankets, and a very caring staff that understand dental anxiety.
5.) We have a cure for bad breath: unfortunate smelling halitosis is a common problem, and we have the team that can tackle the problem quickly incorporating helpful tips and recommendations.
Make An Appointment With Us Today
To set up an appointment and get the full Glisten Dental experience at our Tulsa, OK office, give us a call. We welcome all patients located in and around the area including Broken Arrow, Bixby, Leonard, Jenks, Coweta and beyond. Give your smile the care it deserves!