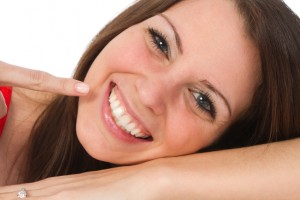 Glisten Dental has some of the best cosmetic dentistry services in Tulsa, OK. If you want to give your teeth a shine that will stop others in their tracks, you've come to the right place. Everyone deserves a smile that is beautiful, period. A smile is a persons' personality on display. Anything less than a great looking smile can leave people's confidence in shambles. It can get to the point where a patient will choose not to smile at all and will instead hide their smiles. We don't want anyone hiding their smiles, so that's why we suggest everyone come in and enjoy top-notch cosmetic dentistry service.
What is it about a beautiful, white smile that people love? It's simply attractive and can have huge effects on your relationships with co-workers, friends and family. If you have a smile that could be a little whiter or teeth that are cracked and chipped, cosmetic dentistry can help mask these problems and help make your smile look like a million bucks. If you're ready to transform your smile, we're ready to get to work! The dentist and the rest of our dental staff want to make your smile shine brighter than ever before.

The Services We Offer
Cosmetic dentistry has made huge advancements over the years that we want you to take advantage of. It's no wonder why cosmetic services are some of the most popular within the industry. Your smile is the first thing anyone notices about you, so it's important to keep it looking and feeling great.
The dentist works with our patients to create a smile that makes their confidence blossom, not to mention make their smiles look amazing. Below is a list of the services we offer:
Tooth-colored fillings: Composite material that mimics the look and feel of natural teeth is bonded to your tooth once all signs of decay have been removed. It can restore structure without leaving any dark spots behind.
Teeth whitening: We offer KöR Whitening Deep Bleaching™ and take-home trays. Both approaches will give you amazing results depending on how long you wish to wait. In-office treatment can have you seeing results in one hour whereas at-home trays won't offer results for at least a week.
Porcelain Veneers: Reserved for teeth that are chipped, broken, significantly discolored or crooked. One veneer can offer a beautiful replacement that looks just like the rest of your teeth.
Schedule an Appointment
If you're ready to give your smile the beautiful look it deserves, come to our office in Tulsa, OK. You can choose from any of our services to help get your smile looking better than ever. We invite patients from all over, including Broken Arrow, Bixby and Leonard.