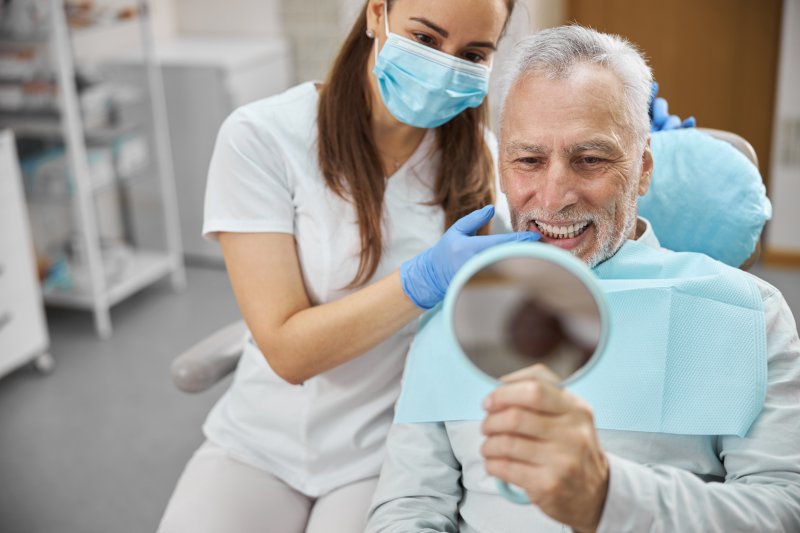 Do you have an old dental bridge or a pair of dentures that keep slipping no matter what you try to do? This can be frustrating but dental implants could be the solution you've been waiting for. You may believe that once a restoration is done, it's permanent, but this is not the case.
Dental implants have revolutionized the way dentists approach tooth restoration. When it comes to replacing missing teeth or upgrading existing restorations, dental implants offer a multi-purpose solution. Continue reading to find out how.
What Are Dental Implants?
Dental implants are small titanium posts that are implanted into your jawbone. These posts can then be fitted with prosthetic teeth called crowns. Once a crown has been placed on an implant, it blends into your smile to look natural and aesthetic.
Can Dental Implants Replace a Dental Bridge?
Yes! A dental bridge is used to replace a missing tooth or teeth by placing a "bridge." This consists of a row of three or more crowns that completely fill the gap left by missing teeth.
While bridges are effective aesthetic replacements, they do not allow for jawbone stimulation like dental implants do. This causes the bone to lose density under your gums. Over time, this loss of bone mass can affect the teeth around it.
If you replace your bridge with a dental implant, you can get the best of both worlds. An implant post will stimulate your jawbone while the crowns provide a seamless aesthetic smile.
Can Dental Implants Replace Dentures?
Dental implants are a fantastic option to restore the function of dentures. In this process, your dentist will place several implants in your upper and lower jaw. Once these are healed, your new denture is secured in place.
Not only will these implants keep your jaw from receding due to bone loss, but your dentures will remain permanently affixed. This will allow you to take care of your new denture as you would with your normal teeth.
With a secure denture, you can also socialize again without the fear of embarrassment. There's no more worrying about rubbing or uncomfortable prosthetics. Your diet will also improve as your new dentures won't require any dietary changes.
In all, dental implants are a versatile and durable way to replace any missing teeth you may have. If there are still questions you need answered about dental implants or the procedure surrounding your replacement, call your dentist and set up a dental implant consultation. Your future smile awaits!
About the Author
Dr. Lindsey Hammond is a Tulsa native who has dedicated her life to serving the community through dentistry. After earning her dental doctorate from the University of Oklahoma College of Dentistry, Dr. Hammond continued expanding her education through multiple professional organizations including the American Academy of General Dentistry and SPEAR Education. To schedule a dental implant consultation at Glisten Dental Care of Tulsa, call (918) 254-8686 or visit the website to explore other services.