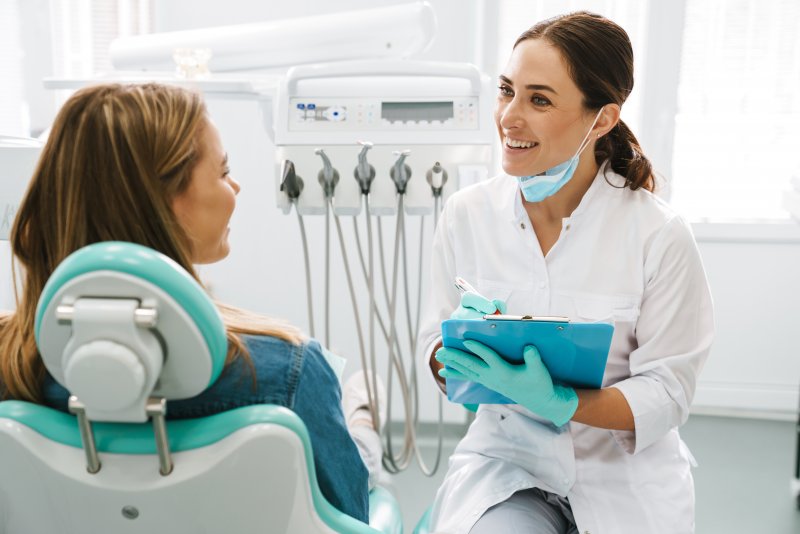 So, you're going to see your dentist for a cosmetic dental consultation? That's some really great news! After all, cosmetic dentistry can make your smile look better than ever — whiter, brighter, and more. Still, have you thought of any questions to ask at this visit? You really should, as they'll help ensure you get the best care possible. If you haven't, though, your Tulsa dental practice has you covered. Here are three crucial questions to bring up at your upcoming cosmetic consultation.
#1: "What are Your Qualifications?"
First things first: You'll want to ensure you've found the right cosmetic dentist. To that end, ask the one you're consulting about their experience and qualifications.
For example, have them tell you their education and training background. This way, you can learn if they hold board certifications or specialize in a preferred procedure. Furthermore, the question helps you know if they've spent much time in dentistry. Those with more years "in the field," so to speak, are more likely to provide excellent treatment.
Based on their response to these concerns, you can decide if the dentist is a good fit!
#2: "What Treatment(s) Do You Suggest?"
As part of the consultation, a cosmetic dentist will perform an oral exam and recommend suitable procedures. To help with your final decision, ask them for the details behind their suggestions.
You see, a patient's suitability for a treatment is based on their oral health. In asking about the dentist's proposals, you'll learn which service would most benefit your smile. You'll get a sense of each procedure's pros and cons, durability, success rate, and so on. With this information, you'll have what you need to make an informed choice for your smile.
#3: "What Kind of Results Can I Expect?"
Of course, it's crucial that you go into your cosmetic treatment with accurate expectations. (Otherwise, your teeth might look different from what you'd wanted or imagined.) Therefore, you should tell your dentist what you hope to achieve with treatment.
By giving your dentist an idea of your smile goals, they'll better grasp how best to treat you. In particular, they'll help you see which option is best for you and what results to expect from your improved teeth — color, texture, shape, etc. If possible, they can even show you before and after photos of patients who've received similar treatments at their office.
A cosmetic dental consultation is meant to guide you toward an ideal treatment. Help it do so, then, by remembering to ask the three questions above!
About the Practice
Glisten Dental is based in Tulsa, OK. As led by Dr. Lindsey Hammond, our practice sets out to provide patients with compassionate and honest dental care. Therefore, we perform personalized treatments that span preventive, cosmetic, and restorative dentistry, as well as emergency smile procedures. Our office also takes pride in being a certified provider of Invisalign clear aligners. For more information or to book a visit, you can reach us on our website or by phone at (918)-749-0303.