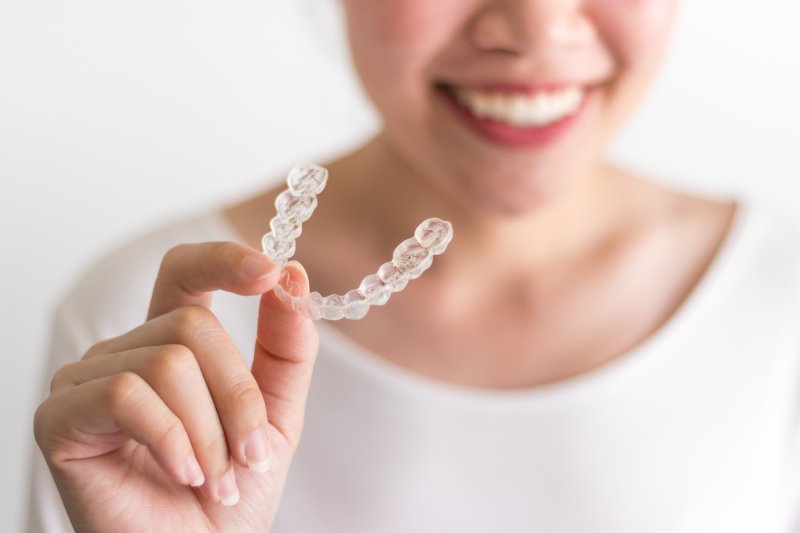 Invisalign has helped millions of people all over the world straighten their smiles. This popular alternative to traditional braces is removable as well as virtually invisible, which means that you can eat almost anything without issue while discretely straightening your smile. For many Invisalign wearers, the holidays can be a tricky time. So, if you need some help making it through the season, continue reading to learn four Invisalign tips that will do just that.
Tip #1: Wear Your Invisalign
Invisalign aligner trays need to be worn for at least 20 to 22 hours each day for the treatment to be as effective as intended. If you don't wear them for this long, you may run into complications or treatment delays. Only remove your aligners during meals and to clean your teeth to ensure that you meet your 20 – 22 hour daily wear time.
Tip #2: Take Your Aligners Off When You Eat
As previously mentioned, take your aligners off when you eat or drink. This is because leaving them on to consume anything other than water can cause them to become deformed or to get stained. During dinner, consider soaking your aligners in a cleaning solution. This will help remove bacteria that have built up on them throughout the day to lower your risk of cavities and other oral health problems.
Tip #3: Brush and Floss Your Teeth
Practicing good oral hygiene is always an important part of caring for your smile. It is arguably even more important when you're undergoing Invisalign treatment. In addition to brushing your teeth once in the morning and once at night, you also have to do it after each meal. The same goes for flossing. This will prevent you from accidentally staining your aligners. It will also lower your risk of cavities by preventing food from getting caught behind your aligners when you put them back on.
Tip #4: Keep an Invisalign Case on Hand
Many people take their Invisalign off and place it on a nearby napkin when they're preparing to eat a meal. Unfortunately, this can cause you to misplace your aligners, or they may be thrown away on accident. This is why you should always keep an Invisalign case on hand. It will give you somewhere safe to store your aligners during meals.
Invisalign treatment can be a little tricky to keep up with during the holidays. But, with these four tips, you should be able to keep your treatment plan on track so you can continue to make your way toward a beautiful, healthy beam that you can't wait to show off!
About the Practice
Dr. Lindsey Hammond is the skilled, compassionate dentist who leads the exceptional team of Tulsa dental health professionals at Glisten Dental. She truly loves what she does, which is apparent in the care she administers to patients. If your teeth are gapped or misaligned, they also offer Invisalign treatment to straighten your beam and correct bite issues. Are you interested in learning more about Glisten Dental's services or do you want to set up an appointment? If so, visit their website or call their office at (918) 254-8686 to get started.