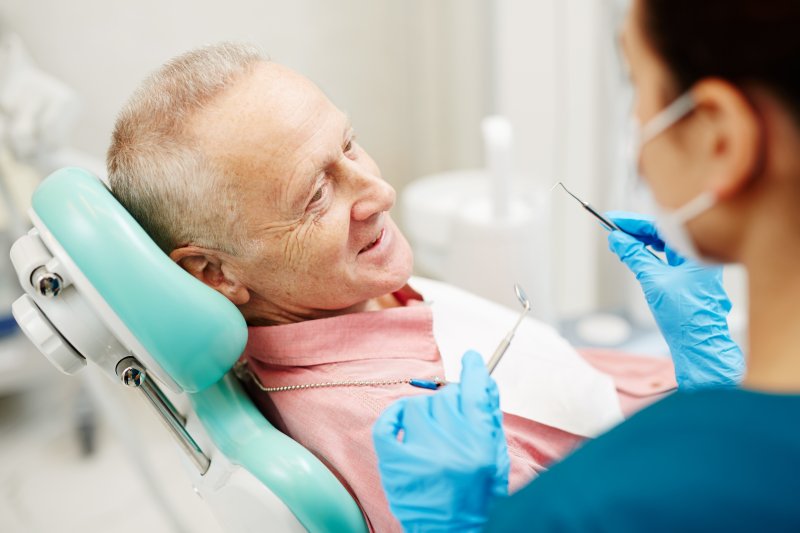 Once you get up in years, starting to "age out" of certain activities is natural. For instance, you may not run as vigorously or drive your car as before. Given that fact, you may believe there'll be a day when you're too old to see a cosmetic dentist. The truth, though, is that there's no such thing! Cosmetic dentistry has no upper age limit, so you'll never be too old for it. To prove that claim, here's a summary of the matter from your local Tulsa practice.
Cosmetic Dentistry Has no Age Limit
Even if you're pretty elderly, you'll never "age out" of qualifying for cosmetic dentistry. The latter's treatments rely on oral health for success, not your years. Therefore, you can get various cosmetic procedures if your mouth is strong enough.
Prior dental issues don't have to interfere, either. When an older patient has gum disease, for example, dentists can treat it before moving on to cosmetic work.
Some Cosmetic Options for Seniors
Senior citizens can benefit from a variety of cosmetic dental treatments. Some of the most common of these include:
Teeth Whitening
Per its name, whitening whitens your enamel with a special bleaching gel. As the substance seeps into your teeth's top layers, it removes stubborn stains and other discoloration.
As you might expect, even older people can have tooth enamel. Therefore, many of the elderly can also take advantage of whitening. Whether done in-office or through take-home kits, this treatment can bleach aged teeth.
Dental Bonding
Using a tooth-colored resin, dental bonding quickly (and cheaply) hides smile flaws like chips, cracks, and more. Done well, the treatment can have results identical to natural enamel.
Dental bonding doesn't damage your smile. The resin it uses is non-toxic, so it won't hurt enamel or irritate your gums. Still, remember that its results only last a few years.
Porcelain Veneers
Unfortunately, your teeth may suffer from several smile flaws at once. Should that be the case, consider porcelain veneers. These shells hide various tooth imperfections beneath beautiful porcelain layers.
Veneers also don't have an age limit. While prepping teeth for them involves removing some enamel, that process isn't affected by whether you're a senior.
Ultimately, a cosmetic dentist can help even the most aged dental patients. That being the case, go ahead and book a visit with one soon!
About the Practice
Glisten Dental is based in Tulsa, OK. Led by Dr. Lindsey Hammond, our practice is committed to excellent dental care for its many patients. As such, we perform various treatments that span preventive, cosmetic, and restorative dentistry. Our office can even handle scenarios like urgent dental emergencies and sedation services. For more information or to book a visit, you can reach us on our website or by phone at (918)-749-0303.