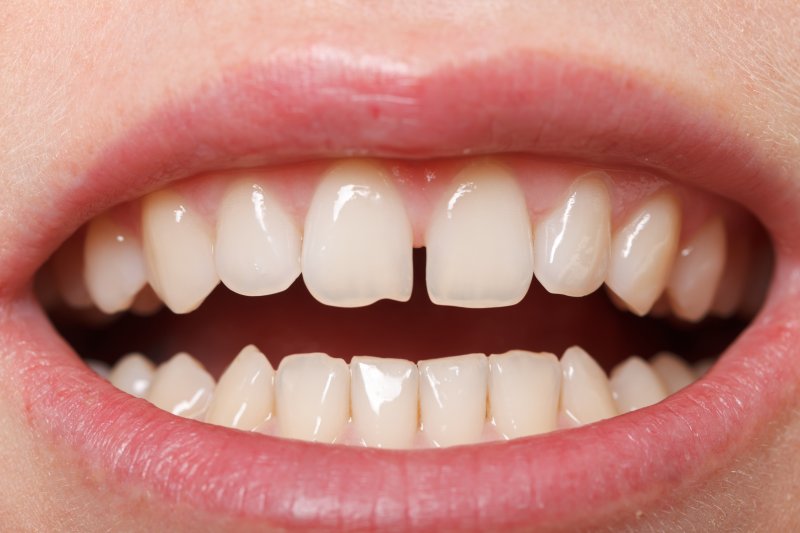 As you might know, not all tooth problems stem from plaque and bacteria. Some have more to do with your smile's crookedness or misalignment. In fact, a good example of the latter is a gap between front teeth. Developing that issue, you see, could worsen your looks and confidence. Fortunately, cosmetic dental work can fix such gaps with its treatments. Your local Tulsa dentist can even prove this fact. Here is a summary of diastemas and how cosmetic procedures can treat them.
What are Diastemas?
Diastema is the clinical term for a gap between two teeth. These gaps can develop anywhere in your mouth and occur in kids and adults alike. However, those in children often close up when permanent teeth come through.
Diastemas can have various causes. Some of them include:
Tooth to Jawbone Ratio – If a person's teeth are too small in relation to their jawbone, gaps can develop between them.
Missing or Undersized Teeth – Sometimes, a diastema can form if some teeth are missing or smaller than others.
Incorrect Swallowing Reflex – When the swallowing reflex happens correctly, the tongue presses against the roof of the mouth. However, it can push your tongue against your front teeth when done incorrectly. Done repeatedly, the latter can cause a gap.
Poor Oral Habits – Thumb sucking, tongue thrusting, and similar habits put pressure on front teeth. Left unchecked, such force can push pearly whites forward, resulting in diastemas.
How Can a Dentist Treat It?
Thankfully, cosmetic dentists are equipped to fix diastemas when they occur. In particular, they can close the gaps with the procedures below:
Porcelain Veneers
As you might know, veneers are thin, porcelain shells dentists place on the fronts of teeth. Their main use is to hide various smile flaws — tooth stains, chips, fractures, and more.
In truth, though, one of veneers' less-known uses is to hide dental misalignment. As such, you can rely on them to cover up a gap between teeth.
Invisalign
A diastema is a kind of crookedness in one's smile, so Invisalign is also a valid option. Just as aligner trays can correct overbites and dental crowding, they can also fill the gaps between teeth.
Of course, Invisalign will only have this effect if you comply with treatment. Therefore, you need to wear the aligners for 22 hours daily and change them out as needed. Please do so to avoid delays in filling the diastema.
A gap between front teeth won't harm your oral health, but it's still unpleasant. That being the case, consider fixing it with one of the procedures above!
About the Practice
Glisten Dental is based in Tulsa, OK. Led by Dr. Lindsey Hammond, our practice strives to give patients effective yet relaxing dental experiences. To that end, we perform high-quality treatments that span preventive, cosmetic, and restorative dentistry. Our office also handles dental emergencies and orthodontic work like Invisalign clear aligners. For more information or to book a visit, you can reach us on our website or by phone at (918)-749-0303.