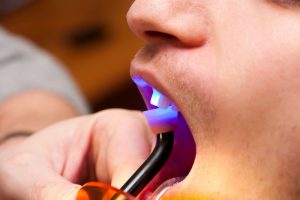 An estimated 34 to 74 percent of people between 30 and 50 years old have one or more chipped teeth, so if you find your self-esteem struggling because of a damaged pearly white, know that you aren't the only one! Fortunately, there are several treatment options available to repair dental damage, including one of the most popular ones, dental bonding! Read on to learn whether dental bonding is the right solution for your unique needs.
What is Dental Bonding?
Dental bonding is a fast, cost-effective treatment that truly shows off your cosmetic dentist's sculpting skills! Using a biocompatible material called composite resin, which is the same resin they use to fill cavities, your dentist will re-make the chipped-off portion of your tooth. They'll then texturize the putty-like material to make it look like your tooth's natural enamel before hardening it with a UV light. The results are a strong and stable repair that may even make you forget what tooth was ever broken in the first place!
Who is a Good Candidate for Dental Bonding?
Dental bonding doesn't just repair chipped teeth. In fact, it can help patients facing a wide range of cosmetic imperfections. Some instances in which your dentist may recommend this treatment is if you:
Want to close a gap between teeth
Have a fractured, chipped or decayed tooth
Need to cover an exposed root of a tooth
It's typically not recommended for patients who have severe bite problems or if there isn't enough enamel left on your tooth for the resin to fuse with. If you're concerned about whether bonding is right for you, it's best to visit your cosmetic dentist for a consultation.
What Benefits Does Dental Bonding Offer?
Dental bonding is one of the most popular cosmetic treatments because it can address mild to moderate dental damage without being overly costly or invasive. Some of the benefits that bonding has to offer include:
The procedure can be completed in as little as a single hour-long visit.
Most cases don't require anesthesia.
It's incredibly cost-effective compared to other options.
Less of your natural tooth needs to be removed for the procedure since the resin is biocompatible.
If you face more severe dental damage, your dentist may recommend a more extensive and long-lasting treatment, like porcelain veneers. However, ultimately, the decision is up to you since you know your needs best!
Dental bonding can truly transform your grin from one that you don't feel comfortable showing off to one that you feel proud of. The best part is it doesn't require countless visits to your cosmetic dentist and a big bill!
About the Author
Dr. Lindsey Hammond loves being able to provide top-notch dentistry for her hometown of Tulsa. With years of experience under her belt, she's dedicated to providing long-lasting and reliable results as well as a variety of smile-restoring treatments to fit all of her patients' needs. She is a proud and active member of several professional organizations, including the American Dental Association and the American Academy of General Dentistry, and she always stays up to date with the latest advancements in her field. To schedule a consultation and learn how she can repair damaged teeth, visit Glisten Dental's website or call 918-254-8686.