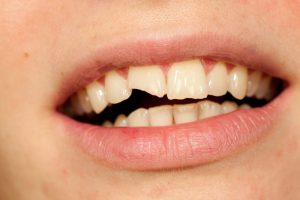 Is there something about your smile that you just don't like? Whether it's a chipped tooth, discoloration, or misalignment, you may be surprised to know that your cosmetic dentist can fix all of those imperfections! Not to mention, these are common issues that countless people face, making the dental techniques to address them well-tested and effective. Read on to learn the three most common cosmetic flaws dentists see and how they treat them.
Tooth Discoloration/Staining
Dental discoloration or stained teeth can be caused by a couple of different underlying issues, like enamel erosion or simply consuming too many stain-causing foods and drinks, like coffee, red wine, and tomato-based sauces. While some patients may be tempted to just purchase store-bought whitening products to fix the issue, these can easily be overused, causing more problems than they can solve.
When you visit a cosmetic dentist for teeth whitening, they'll offer take-home kits as well as in-office treatment. They use only the highest quality of professional-grade ingredients that are all approved by the American Dental Association, making the treatment results brilliant, fast, and long-lasting.
Misaligned or Crowded Teeth
Orthodontic issues like misaligned and crowded teeth are common among adults because they believe their only treatment option is traditional metal braces. Fortunately, that's not the case! Thanks to modern advancements in dentistry, more orthodontic solutions are available that can help patients of all ages align their smile more discreetly, like Invisalign clear braces. This treatment gently and strategically places pressure on the teeth to shift them into their ideal positions. It can even address mild to moderate bite problems, including overbite, underbite, and crossbite.
Gapped Teeth
Gaps between the teeth aren't always considered a cosmetic imperfection—some people look great with them, but others may not feel like their unevenly spaced pearly whites boost their confidence. In this case, there are multiple treatment options that can help provide you with a symmetrical and even-looking grin.
Porcelain veneers can help close gaps between several or just two teeth with individually crafted sheaths that are designed to fit over the front surface of them. If you have misaligned teeth that are spaced out throughout your arch, Invisalign may be a better option since it can address more moderate orthodontic issues.
If you find yourself faced with one of the three common cosmetic imperfections listed above, you don't have to let them grate down your self-confidence because your dentist offers several solutions that can transform your grin into one that you're proud to show off!
About the Author
Dr. Lindsey Hammond's favorite part of being a dentist is seeing her patients' faces after receiving cosmetic dental services that make their dream smile a reality. She enjoys helping her community in Tulsa beautify and take care of their teeth through providing a wide array of services, including orthodontic and cosmetic treatments. For questions or to learn what cosmetic service can address your needs, visit Glisten Dental's website or call 918-254-8686.