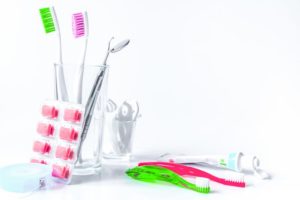 This month is when most people are indulging in pumpkin-flavored goodies and planning for various celebrations. But did you know that October is also National Dental Hygiene Month? It's the perfect time to evaluate how your daily habits affect your smile's health and cleanliness. Let's talk about how you can get into the spirit of this annual observance and perhaps even make improvements to your daily routine for dental hygiene in Tulsa.
Chat With Your Hygienist
When you visit your dentist in Tulsa, you're doing more than going in for a checkup with an oral health doctor. Your dentist works alongside talented hygienists, all of whom studied hard for years in order to learn the intricacies of how to clean and maintain teeth. They're true experts on oral hygiene and would be happy to share their knowledge with you.
The next time you go in for a routine appointment, bring a list of any questions you may have about how to care for your smile at home. Here are a few ideas to get you started on writing your list:
Did you notice any areas on my teeth that I may not brush as thoroughly as I should?
Do you recommend any specific products that could help me maintain a cleaner mouth?
Can you offer any advice on how I can finally get into a regular routine of flossing?
What things can I do throughout each day that will help me have a healthier smile?
Tips for a Cleaner Mouth
Your hygienist can give you personalized guidance on how to care for your smile. Until you get to talk with them, however, you can use these generalized tips to maintain a fresher mouth:
Sip plenty of water. It will help to rinse away food particles and bacteria that might linger in your mouth after meals.
Chew sugar-free gum. The chewing action promotes saliva production, which helps a clean your mouth.
Snack in moderation. Sugary and starchy snacks are primary culprits behind cavity-causing plaque, so you should always view such goodies as treats rather than as part of your normal routine.
Keep dental supplies at work. Having floss, a toothbrush, and some toothpaste in your desk drawer can help you stay fresh no matter how many onions were in your lunchtime salad.
Make sure you're brushing correctly. Many people tend to miss the backs of their teeth or the areas along the gum line, so make a conscious effort to brush these areas. Also, always be sure to use short (tooth-wide), gentle strokes.
How would you rate your dental hygiene routine? If you notice any room for improvement, make changes promptly so you can keep your smile in great shape!
About the Author
Dr. Angie Nauman is an Oklahoma native who set her sights on a career in dentistry when she was in fourth grade. She achieved her dream in 2001, when she began practicing as an oral health doctor. She is proud to work alongside the four amazing hygienists in our office. If it is time for your next checkup or you have questions about how to care for your smile, contact our office at 918-254-8686.