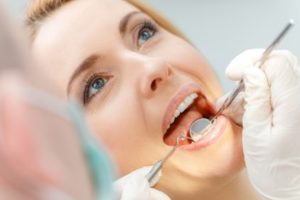 Are you one of the many people who neglect scheduling your bi-annual dental visits? You're not alone – many people have one of the 3 following reasons: time, money or pain. But the truth is that skipping visits with a dentist in Tulsa can actually cost more time and money (not to mention pain) in the long run! In this blog, you'll learn why dental checkups are so important and how they benefit the whole family. Learn more below!
How Does Routine Dental Care Benefit You?
The power of prevention shouldn't be underestimated. The same way that taking your car in for oil changes prevents major breakdowns down the road, "taking your teeth in" for checkups also prevents bigger problems from happening later on.
Here are just some of the issues you can avoid by coming in regularly:
Gum disease – As one of the leading causes of tooth loss, it's crucial to monitor your gums regularly to make sure you don't develop gum disease. There are great gum therapy treatments that can manage it, but they're more effective when they're done early on!
Major dental work – Small cavities are so much easier (and less expensive) to treat than large ones. In many cases, you won't feel a cavity when it's small because it's only in the outer layers of the tooth and far from the nerve. Fortunately, these can be caught with routine X-rays and exams. If small cavities aren't caught, they become larger and destroy more of the tooth structure, which requires a large filling or crown to fix. Severe cavities that have caused a toothache may need a root canal.
Emergencies – Another great benefit of bi-annual checkups is that they can prevent emergency dental situations. Oftentimes these disasters strike at the most inconvenient times: a busy work week, vacation, or in the middle of the night. It's much more ideal to get dental work on your own schedule.
In addition, many people have dental insurance that covers most (or all) of the cost of routine dental care. You may as well take advantage of these benefits – otherwise, it's like passing up free money!
What Can You Expect at Your Checkups?
Your checkups with a family dentist in Tulsa are so much more than just a cleaning. Here are the many parts of a basic checkup:
Review of your medical history
X-rays (once per year)
Oral cancer screening
Gum evaluation (once per year)
Professional cleaning
Home hygiene evaluation
Dental exam
All of these steps come together to ensure that every aspect of your oral health is in great shape!