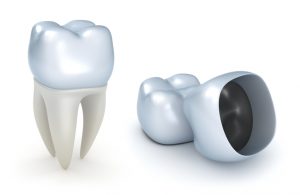 Dental crowns have held a common place in restorative dentistry for many years because they are effective for restoring a tooth's health and function. While many have heard of a dental crown and many probably already have them, most aren't exactly sure the overall purpose of a crown or how it helps. Despite popular belief, a dental crown is much more than just a protective cap. A crown is able to restore the health and function of a tooth, while enhancing its appearance and protecting the tooth from additional damage. As your dentist in Tulsa OK, we have everything you need to know about dental crowns.

What is a Dental Crown?
A dental crown is widely used in restorative and cosmetic dentistry due to the many benefits it offers and its wide degree of uses. Essentially, a dental crown is a custom-made cap that's fitted over a tooth and cemented in place. The reasons why a dental crown may be needed are diverse; however, overall the crowns are used to protect the integrity of a tooth once it has become damaged. The crowns allow the tooth's function to be restored by providing strength to the damaged tooth.
What are the Benefits of Dental Crowns?
Dental crowns are widely used in restorative dentistry to protect a tooth from additional damage after the tooth has suffered from decay or infection, such as when a root canal is needed. The decayed area of the tooth is removed and the tooth is sealed prior to having a crown placed on it. This protects the tooth, while restoring the tooth's health and function.
Dental crowns are also used to protect teeth that have become weak or teeth that have broken or cracked. The crown will give a weakened tooth the support it needs to protect the longevity of a tooth. If a tooth has become broken or chipped, a cap will hold the tooth together, saving it from extraction while allowing you to regain the function of the tooth.
In many cases, dental crowns are combined with other restorative procedures, such as with the use of a dental bridge. When missing teeth are replaced with a bridge, crowns are often attached to the adjacent teeth to anchor the bridge in place. In addition, crowns are also used to cover dental implants to provide a natural-looking and functioning tooth replacement.
Dental crowns can also be used in cosmetic dentistry. When a tooth is misshaped or smaller than the other teeth, a custom-made dental crown can be used to enhance the appearance of the tooth. Crowns can also be used to mask severe discoloration of a tooth that isn't responding to whitening treatments.
Your Dentist in Tulsa OK
We provide custom dental crowns in Tulsa OK for a variety of reasons. We create custom crowns that look and function like natural teeth using high-quality material to maintain the health of your tooth. As a trusted dentist in Tulsa OK, we use dental crowns as part of our restorative and cosmetic services to help promote a healthy smile that lasts a lifetime. If you're in need of a dental crown, please call our office at (918) 528-7569.