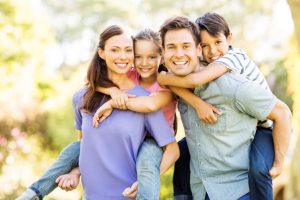 You and your family already share so much, so why not trust the same dentist, too? It doesn't make sense to drive all over town when there's a family dentist in Tulsa OK who can meet all of your smile needs. Dr. Nauman and the team at Glisten Dental are equipped to care for everyone's smiles — from your newest arrival to great-grandma and grandpa, too.
Comprehensive Dental Care for All Ages
Whether it's a general checkup and cleaning for yourself, dental sealants for your little one, or dental implants for an older member of your family, we can help you and your loved ones on every step of the journey to a healthy smile. Dr. Angie Nauman is your dentist in Tulsa OK providing the expert, compassionate care families in our region have come to count on.
Children's Dental Care
Your little one is figuring out how the world works every day — and that includes how she feels about the dentist. Children's first visits to the dentist are so important for laying the foundation for a lifetime of good dental hygiene. Many dental phobias begin with a bad experience in childhood, and that's why Dr. Nauman and our team take a calm, caring approach with our littlest patients. We've also got all the comforts children need to feel at-ease in the dentist's office, like TVs, iPads, and special prizes after appointments.
Services in children's dental care include:
Dental sealants

Sportsguards

Tongue tie diagnosis and treatment

Orthodontics
Before your child's first appointment at Glisten Dental, we encourage you to bring your little one in for a non-treatment visit. Let us introduce her to our team, and help to familiarize her with the sights and sounds of the dental office. This introductory visit can help her understand there's nothing to fear from Dr. Nauman, the children's dentist in Tulsa OK.
General, Restorative, and Cosmetic Dentistry
When we say comprehensive care, we mean it. In addition to top-notch children's dentistry, Dr. Nauman provides all the services you need for a healthy, beautiful smile. At your six month checkup and cleaning, we'll remove plaque and tartar buildup to help your smile truly glisten. If restorative dental care is required, we offer tooth-colored fillings, root canal therapy, and more.
And once your smile is as healthy as can be, we want to help it shine. With porcelain veneers and teeth whitening, you can enjoy the full smile confidence we all deserve.
Other services our practice offers include:
Periodontal therapy

Sedation dentistry

Oral surgery
At Glisten Dental, we take care of all of your family's dental needs — and we are happy to do so! Please contact us to schedule an appointment for you or a loved one today.