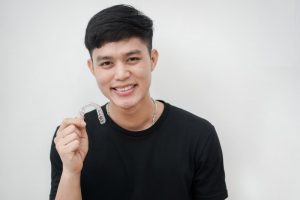 Compared to regular braces, Invisalign is a superior teeth-straightening treatment in nearly every way. The clear aligners are barely noticeable when worn, and since you can take them out at any time, you can eat whatever you'd like and brush your teeth without hassle. However, you might be wondering whether you can still get cavities with Invisalign. Keep reading to learn the answer!
Is It Possible to Get Cavities with Invisalign?
Yes. It may seem as though the aligners are protecting your teeth from cavities, but that's not the case. Your risk of tooth decay will probably remain the same during the Invisalign process as it was beforehand.
What Happens If You Get a Cavity During Invisalign Treatment?
Whether or not you're undergoing Invisalign treatment, cavities should be addressed right away before serious dental damage is done. Typically, your dentist will treat the tooth with a filling, but if the decay has progressed, you may require another type of restoration, such as a crown, inlay, or onlay.
With Invisalign, your mouth might feel even sorer after getting these treatments than it would otherwise. Additionally, the fit of your aligners might feel slightly "off" for a bit after receiving a crown or other restoration.
Although treating a cavity shouldn't compromise your Invisalign treatment, it's best to keep your teeth cavity-free whenever possible.
How to Avoid Cavities with Invisalign
While you're straightening your teeth with Invisalign, you'll need to take a few simple precautions to reduce your risk of tooth decay throughout the course of your treatment:
Remember to Brush and Floss
Oral hygiene is crucial; it minimizes the buildup of cavity-causing plaque. Make sure to brush and floss after every meal or snack but before placing your aligners back on your teeth. Otherwise, the trays could trap food debris and bacteria against your teeth, leaving them vulnerable to decay. Since the aligners are removable, you should have no difficulties brushing or flossing, as you would with traditional braces.
Clean Your Aligners Regularly
It's important to keep your aligners clean. You can purchase Invisalign cleaning solutions, but you could also use a soft-bristled toothbrush, plain water, and antibacterial hand soap to gently scrub the trays. That way, leftover food particles won't stay behind and attract harmful bacteria.
Don't Skip Your Follow-Up Visits
During Invisalign treatment, you should visit your dentist every few weeks for regular checkups. At these appointments, your dentist can monitor the progression of your treatment and check for any oral health concerns, like tooth decay. If they detect any cavities, they can arrange to treat them as quickly as possible.
It's definitely still possible to get cavities with Invisalign, but as long as you remain proactive about your dental health, you can finish your treatment with a healthier, straighter smile!