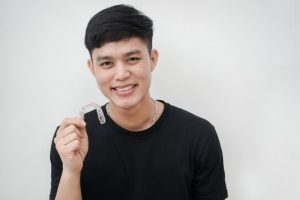 In just the last couple of decades, more than 13 million people worldwide have straightened their teeth with Invisalign. It's no surprise since this treatment is more convenient and comfortable than metal braces. Since then, all sorts of similar clear aligners have appeared on the market, many of which can be ordered through the mail and completed without visiting a dentist. Are these "do-it-yourself" (DIY) clear aligners too good to be true? Sadly, the answer is probably yes. Here are three reasons why you're better off seeing your dentist for Invisalign!
1. In-Person Consultations Are More Important Than You May Have Realized
The idea of being able to straighten your smile without setting foot in a dentist's office may sound appealing on its surface, but it's also a risky move. An initial consultation before a dental or orthodontic treatment is crucial to that treatment's success, and most mail-in clear aligners don't involve this step. Without a consultation, existing oral health problems like tooth decay can remain unaddressed and compromise your treatment down the road.
You'll also be responsible for taking your own impressions of your teeth to create the trays. If your impressions are even slightly imprecise, your teeth could end up moving in the wrong direction. By visiting your dentist and having them take the impressions, you'll be sure to start your treatment off right.
2. DIY Clear Aligners Are NOT Supervised by a Professional, but Invisalign Is
With most DIY clear aligner systems, you'll need to periodically check in with your provider to have your progress evaluated. However, these routine video calls or photos can miss a lot of the details of how your teeth are being repositioned. For example, your teeth could be moving in unfavorable ways, and you or your provider might not even notice until your smile has already shifted significantly.
In-office appointments for Invisalign, on the other hand, allow your dentist to get a closer look at your teeth on a regular basis. They can detect and address any concerns right away, which leads to the next benefit of Invisalign over DIY aligners.
3. Invisalign Could Save You a Lot of Money, Time, and Stress
When your orthodontic treatment isn't supervised by a dental professional, there's a lot of room for things to go wrong. For example, DIY aligners might seem less expensive initially, but because of the risk of inaccurate impressions and problems not being noticed until it's too late, you may have to spend more money and time seeing your dentist to have your teeth adjusted by Invisalign instead. By choosing Invisalign from the start, you'll have peace of mind knowing that your treatment is as safe, effective, and stress-free as possible.
Invisalign has a proven track record, and millions of people can honestly sing its praises. The same cannot always be said for mail-in clear aligner systems. Your smile will thank you if you place its care in the hands of a qualified professional with Invisalign!