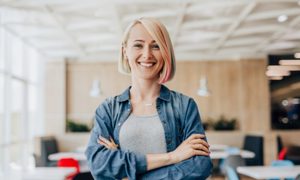 If you have an upcoming interview, looming presentation, or some other type of career-related function on the horizon, you're probably thinking about how to make sure things go smoothly. One thing to keep in mind is your appearance—these days, a good first impression can go a long way, and something that contributes to this is your smile! That said, many people today are opting to enhance their pearly whites with cosmetic dentistry; and in turn, they're greatly benefitting in the professional world! Keep reading to learn about four ways that cosmetic dentistry can provide your career with a huge boost.
Better First Impressions
Your smile is one of the first things that people will notice about you; according to a survey from the American Academy of Cosmetic Dentistry, about 48% of adults believe a smile is the most essential and memorable aspect when meeting a person for the first time! This means that by opting to enhance your pearly whites with cosmetic dentistry, you can improve the quality of your first impressions. Not only will your teeth appear brighter and more appealing, but you'll also seem more confident, engaging, and competent to others around you. This can go a long way when you're trying to land a new position or promotion!
Enhanced Self-Esteem
Whether you're simply undergoing teeth whitening or receiving dazzling new porcelain veneers, you're going to feel great about showing off your new smile. Feeling confident about the way you look can also help portray a more positive attitude, which can be contagious in the workplace. Without the urge to cover or hide your teeth, you can focus more on interacting with your colleagues, performing your duties, or showing that you're capable of whatever's thrown your way.
Improved Job Performance
Your emotional well-being can also positively impact your job performance. The more optimistic and confident you feel while working, the better you will perform. This may also spread to the people around you—even just a small smile can make somebody else's day and inspire them to follow your lead and work harder. Not to mention, a healthy smile means you'll also be able to avoid issues like cavities, gum disease, and more that can disrupt you from accomplishing your professional ambitions.
Boosted Overall Happiness
Perhaps the greatest benefit accompanying cosmetic dentistry that can directly improve your career success is the boost that it provides to your overall happiness. Your overall happiness is what determines your outlook towards life. Simply put, cosmetic dental treatments can make you feel more attractive, youthful, and carefree—all of which can dispel any anxiety or doubt you might experience at the workplace.
Your smile isn't the only thing that can benefit from cosmetic dentistry; your career can also receive a considerable boost! If you're ready to upgrade your pearly whites and take advantage of everything that an attractive smile has to offer, don't wait to talk with your dentist about your smile goals.
About the Practice
The team at Glisten Dental is honored to serve the dental needs of the Tulsa area under the leadership of Dr. Lindsey Hammond. An Oklahoma native herself, Dr. Hammond received her dental doctorate from the University of Oklahoma College of Dentistry and is an active member of several professional organizations including both the American Dental Association and the Oklahoma Dental Association. If you have any questions about how to enhance your smile with cosmetic dentistry, don't hesitate to contact Dr. Hammond through her practice's website or over the phone: (918) 254-8686.