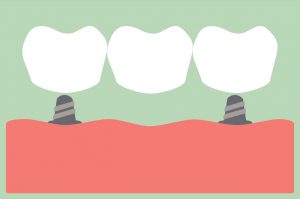 If you've never had any missing permanent teeth, but you're facing that possibility now, it's the perfect time to start thinking ahead. How are you going to feel when you have missing pieces of your smile? More importantly, missing your natural permanent teeth can dramatically decline your oral and systematic teeth. Dental implants in Tulsa is a procedure that she truly recommends. This modern approach to replacing teeth is actually the best way to restore your smile from root to crown!
Getting Dental Implants
1.         Evaluation and Preparation
First, you have to see if dental implants are truly suitable for you. In most cases they are, but during your first dental appointment at Glisten Dental, she will evaluate the health of your jawbone. Your jawbone needs to be strong enough to hold, adjust to, and stabilize the dental implant posts. If your jawbone holds adequate strength, then we can move straight to phase two. If your jaw bone isn't strong enough, your dentist will most likely recommend a bone grafting procedure which can take anywhere from 3 to 6 months to heal from.
2.         Placing the Implant Posts
During this step, she will methodically develop alongside another implant dentist in Tulsa to surgically implant your dental implants within your jawbone. This sounds painful, but with the help of a local anesthetic and pain medications, and a referral from one expert to another, you will not be able to feel a thing! These biocompatible, titanium implant posts will fuse to your jawbone naturally with a process called osseointergration over the course of 3 to 6 months.
3.         We restore your dental prosthetic.
The third step is the most exciting for most patients. You will finally be able to see your anticipated results! An abutment will be attached to your implant post to hold a dental prosthetic in place (restoring your smile) during another dental appointment at our office.
Types of Dental Prosthetics
Depending on the severity of your tooth loss, your dentist in New Braunfels will recommend a variety of different dental prosthetics like implant-supported dentures or simply one dental crown. Either way, Dr. Earnest will combine art and dentistry by creating an effective same-day dental prosthetic in our office with our advanced CEREC technology. Comal Dental will suggest and place the perfect dental prosthetic for you based on your needs and budget. This last step is completed as your final dental implant appointment.
Dental Implants are Well Worth the Wait
Dental implants are the most natural, versatile way to replace teeth. Implant-retained prosthetics, such as bridges or dentures, can be attached securely to a patient's smile with the help of only a few implants. Some other positive things about dental implants include:
Ability to blend well with the rest of your smile with tooth-colored restorations.
No abrupt changes in your dental hygiene routine, your restorations can be cared for just as regular teeth.
Durable restorations built to last the rest of our patient's lives with the proper care and regular checkups.
If you're committed to reaching your optimal oral health, even after you've lost one or several natural teeth, you may be a good candidate for dental implants. She provides excellent implants for patients from Tulsa and surrounding areas. Contact us today to schedule a consultation.