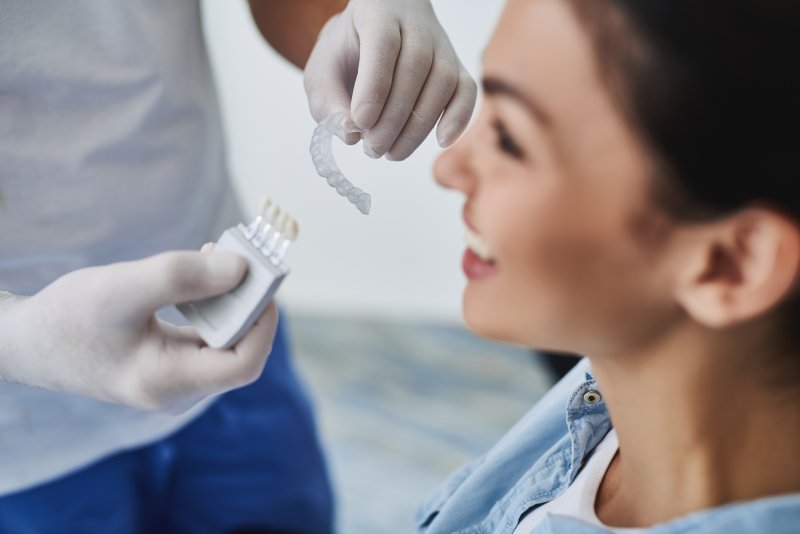 Everyone wants a perfect smile that they can confidently show off. Unfortunately, not everyone is born with one. Although misaligned teeth can be a source of embarrassment for many adults, you have several options to fix them. Invisalign is one popular orthodontic solution that can correct your alignment without the hassle of metal wires and brackets. However, there's a common misconception that people with dental restorations aren't eligible for Invisalign treatment. Your cosmetic dentist in Tulsa debunks this and explains how you can still straighten your teeth with crowns, bridges, and veneers.
What Is Invisalign?
Invisalign is a modern orthodontic treatment that involves a series of clear aligners. Each tray cycle is worn for a predetermined amount of time (usually two weeks) to move teeth into their ideal position. While traditional metal braces use wires to "pull" teeth into alignment, the clear aligners use constant, gentle pressure to force teeth into a new position. Most patients prefer this orthodontic system because treatment is discreet, comfortable, and less restrictive!
Can I Get Invisalign If I Have Dental Restorations?
As you get older, it's common to have one or two teeth with dental restorations or prostheses. However, Invisalign is also becoming increasingly popular with adults. Thus, most adults wonder if it's even possible to undergo orthodontic treatment with crowns, bridges, and veneers. The good news is you certainly can! In fact, clear aligners are an ideal treatment because there's nothing cemented to your teeth. Let's take a closer look at what you should know about restorations and Invisalign.
Crowns
Dental crowns are often used to restore the health, function, and appearance of a tooth. They might make it slightly difficult for teeth to move, but it's definitely not impossible. The clear aligners won't cause any issues with the restoration because they do not adhere to your teeth or the prostheses. Before starting treatment, your dentist will make sure your crown is in good shape and properly bonded.
Bridges and Veneers
Bridges can't move with traditional metal braces because they will end up damaged. Similarly, attaching braces to veneers can damage them as well. In these cases, Invisalign is an excellent alternative as the aligners don't need to be attached to the restorations. However, you can expect your teeth to move at a slower pace if you have a bridge or veneers.
As you can see, having restorations doesn't disqualify you from getting Invisalign treatment. If you're ready to start your journey towards a straighter smile, ask your cosmetic dentist in Tulsa how you can begin!
About the Author
Dr. Angie Nauman earned her dental doctorate at the University of Nebraska. She has been working in the dental field since 1994 and practicing dentistry since 2001. Dr. Nauman is passionate about helping every patient achieve and maintain their absolute best smiles! If you're unhappy with your misaligned teeth, contact our office and ask how you can get started with Invisalign treatment. Visit our website or call (918) 254-8686 to schedule a consultation with Dr. Nauman.