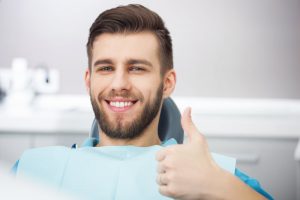 Not many people jump for joy when it's time to visit the dentist. However, your dental appointments shouldn't fill you with dread either! If you're scared of the dentist or if getting dental work done is painful for you, it could be tempting to postpone your regular checkups and put yourself at a higher risk of serious oral health conditions. Thankfully, sedation dentistry is a safe and reliable way to feel more comfortable in the dental chair! Your Tulsa sedation dentist explains five types of patients who can benefit from this relaxing service.
Dental Anxiety or Phobia
One of the most common uses of sedation dentistry is to calm those who feel nervous, anxious, or downright afraid of visiting the dentist. Sedation can help calm the nerves and make you oblivious to the sights, sounds, and other experiences that would normally cause you stress. Whether you have a nearly insurmountable dental phobia or just need a little help to relax during your upcoming appointment, sedation dentistry can help.
Sensitive Teeth or Gag Reflex
If you have particularly sensitive teeth or an over reactive gag reflex, even a simple dental cleaning can be extremely uncomfortable. Sedation dentistry can help relax the gag reflex and minimize sensation in your teeth, making it much easier to complete your dental work comfortably.
Long or Complicated Treatments
If you are suffering from several or complex oral health issues, your dentist may recommend sedation dentistry. Not only will this help you relax during your treatment despite its prolonged length, but you'll physically feel more comfortable in the examination chair. This helps your dentist work as quickly and precisely as possible.
Problems Sitting Still Comfortably
Do you have Restless Leg Syndrome? Do you suffer from neck or back pain that makes sitting in the dental chair for long periods of time uncomfortable? Does your TMD make it difficult to hold your mouth open during your appointments? Sedation dentistry can help address all these discomforts during your appointment, allowing you to rest and relax while your dentist cares for your smile.
A Fear of Needles
Some treatments require numbing your mouth to make the procedure more comfortable. While these local anesthetics are reliably powerful, having them administered via a needle can be anxiety-inducing for some patients. If you have a fear of needles, sedation dentistry can help! Nitrous oxide sedation is provided via a small nose mask and oral conscious sedation utilizes an anti-anxiety medication that's taken by mouth. Both options can help you feel safe, comfortable, and at-ease without any sort of needle!
With the help of modern dental techniques and services like sedation dentistry, it's never been easier to get a beautiful, healthy smile! Talk to your Tulsa dentist today to see if sedation can help you experience your most pleasant dental appointment yet!