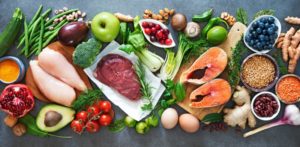 March is National Nutrition Month, which means your dentists and doctors will be discussing healthier food options that can keep your teeth and gums free of decay and disease. Wait…dentists? Why would a dentist care about what you eat? The reason is that many of the nutrients found in certain foods can actually work to improve your oral health. So, which ones do you choose? Listen to your local dental professional who can help you make the right decisions when it comes to what you should consume for healthier teeth and gums.
Which Foods Should You Consider
Before you start thinking that all you should be eating is salads, fruits, and vegetables, the reality is that while they should be incorporated into a well-balanced diet, other options can also be advantageous for your smile. Is your dentist saying you can never have cake or cookies ever again? No, but you should be mindful of how much of it you eat. Remember the phrase "Everything in moderation."
So, what foods are going to have the greatest impact on your oral health? Let's find out:
Calcium-rich foods can help your tooth enamel to grow stronger while reducing your risk for decay and sensitivity. Some excellent choices include milk, cheese, yogurt, salmon, and almonds.
Phosphorus-rich foods are great for protecting your tooth enamel against possible damage or serious decay that can result in cavities. Your teeth are exposed to daily wear and tear, which can cause small cracks to develop. Fortunately, by eating eggs, fish, lean protein, dairy, and nuts, your teeth will be less likely to suffer as much damage.
Foods with Vitamin C help promote good gum health. Citrus fruits, broccoli, spinach, and potatoes are ideal to include in your daily diet and will help you avoid many of the symptoms associated with gum disease.
Tips for a Healthier Diet
Making a lifestyle change isn't always easy, especially if it is one that requires you to change your way of thinking when it comes to food. Instead of looking for what is most convenient or "easy," it's time to start considering which options will help your mouth and body function at an optimal level. To help you make this change, here are a few tips to remember:
When eating out, look for healthier alternatives.
Make a list before going to the grocery store, as this will help you to buy only what you need and not what you want.
Consume plenty of water and avoid caffeinated, sugary beverages.
Choose one day out of the week to "meal prep." This will be beneficial if you have a busy lifestyle that can often lead to picking up fast food or ordering in.
Practice portion control.
Your dentist can be your ally in the fight against decay, disease, and other oral health problems, so if you want to learn more about healthy foods and their impact on your teeth and gums, talk to your dental professional today.
About the Author
Dr. Angie Nauman has been working in the field of dentistry since 1994 and practicing since 2001. Receiving her undergraduate degree from John Brown University, she went on to pursue her dental degree at the University of Nebraska. With advanced training in laser dentistry, tongue and lip tie release, Invisalign, orthodontics, and dental sleep medicine, Dr. Nauman can provide a host of services to patients to achieve healthier, more beautiful smiles. Apart from the list of comprehensive dental care she provides, she also offers patient education ranging from proper brushing techniques to better food options for improved oral health. For questions about our services, visit our website or call (918) 254-8686.