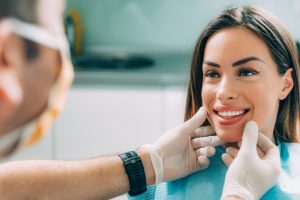 A bright, genuine smile can have a wonderful impact on other people. If someone is having a bad day, your random grin can brighten their day. As a matter of fact, studies have shown that smiling is contagious: it triggers an automatic muscular response which, in turn, causes them to grin! However, you may have a dental flaw that can make you hide your pearly whites. As you consider upgrading your smile with cosmetic dental treatments, it's important to set some misconceptions about it straight. With accurate information, you'll be prepared to explore your options for achieving a smile you'll love and be willing to share!
Myth #1. Your Smile Will Look Fake
While this may have been applicable in earlier times, it is no longer true. Cosmetic dentistry has advanced significantly over the years, resulting in appearances that replicate your natural teeth. Your dentist can even design treatments that compliment your facial structure, making the cosmetic work look even more lifelike.
Myth #2. It is Unaffordable
Cosmetic services are usually considered elective, so oftentimes they are not covered by dental insurance. However, if the procedure offers restorative benefits, there may be coverage available. In addition, many dental practices provide other options to make a new smile affordable. In addition to helping you utilize any benefits to their full potential, some dental offices even can split the cost of treatments across calendar years to make the journey to a new smile more affordable.
Myth #3. The Benefits are Only Aesthetic
While some procedures can be done with the focus of giving you a purely beautiful smile, some cosmetic procedures can overlap with restorative dentistry. For example, dental implants and crowns can provide health benefits while also improving your smile's appearance. In the case of a crown, it can shield a tooth from damage that would eventually require a more extensive procedure, like a root canal. And an implant replaces your entire tooth, from root to crown, giving you long-lasting stability and functionality.
Myth #4. It Can Weaken Your Teeth
One thing will always hold true: cosmetic dentists would not provide services that would put your oral health at risk. A healthy smile, no matter how it looks, is always the top priority. Sacrificing the strength of your teeth for the sake of aesthetics is not an option for dentists. To ensure your oral health, consultations are a critical part of the process. They allow your cosmetic dentist to fully examine your mouth and recommend procedures that are best for your health and your grin.
Myth #5. It Only Involves Major Procedures
Although some procedures do require the use of local anesthesia, most require little to none of it. For example, professional teeth whitening and dental bonding are two quick and comfortable treatments that don't drastically change your teeth and can be completed in an hour!
About the Author
Dr. Lindsey Hammond and her team at Glisten Dental Care of Tulsa are eager to help you achieve the smile of your dreams! She earned her dental doctorate from the University of Oklahoma College of Dentistry and is an active member of several dental associations, including the American Dental Association. With the use of advanced dental technology and customized plans, she offers various cosmetic treatments to enhance your smile. To schedule a consultation, contact her through her website or call (918) 254-8686.