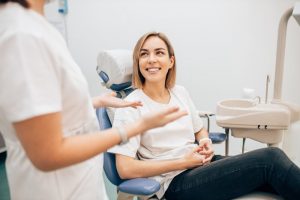 In addition to your regular oral hygiene routine of brushing and flossing, it's essential to visit your dentist every six months for a checkup and cleaning. However, this appointment can cause panic when you realize you may not have been taking the best care of your smile! As a matter of fact, you may even dread telling your dentist the truth about your oral health. Read on to learn four lies you may be tempted to tell your dentist at your preventive care visit.
#1: I Floss Every Day
While brushing is crucial to clean plaque and debris from your smile, it doesn't reach those crevices between your teeth. This is why flossing at least once a day is so important—it prevents the build-up of plaque and stuck particles, which ensures healthy teeth and gums! If you are not cleaning between your pearly whites as often as you should, let your dentist know. They can help assist you with any inflammation of the gums or the early formation of a cavity.
#2: I Don't Smoke Cigarettes
Tobacco doesn't only negatively impact your physical health; it causes tooth discoloration. Additionally, it also causes your mouth to be dry, which means your saliva can't do its job of washing away bad bacteria from your teeth and gums. The use of nicotine also increases the risk of developing oral cancer. Let your dentist know if you have a smoking or tobacco habit so they can help treat your smile effectively, as well as give you advice on how to kick the habit.
#3: I Don't Drink Soda
Soft drinks are harmful to your teeth because they contain sugar and acid, two smile-destroying ingredients. While moderation is key, it's best to limit the amount you drink so your pearly whites aren't constantly exposed to harmful elements. If you do choose to enjoy a soda, drink it with a straw to minimize its contact with your pearly whites.
#4: I Don't Feel a Thing
Many people don't like to express discomfort or pain since they don't want to be troublesome or offensive. However, one of your dentist's main priorities is treating your smile while also keeping you comfortable and at ease. If you happen to start trouble sitting still, clenching your eyes shut, or your tongue or legs begin to tighten, your body is telling you it needs to calm down. Tell your dentist how you are feeling so they can adjust the process and keep your smile in top condition!
About the Author
Dr. Lindsey Hammond and her team at Glisten Dental Care of Tulsa are eager to help you keep your smile whole, healthy, and beautiful. She earned her dental doctorate from the University of Oklahoma College of Dentistry and is an active member of several dental associations, including the American Dental Association. With the use of advanced dental technology and customized plans, she is passionate about maintaining, restoring, and enhancing your oral health. To schedule an appointment, contact her through her website or call (918) 254-8686.