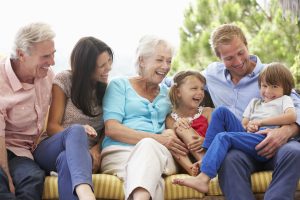 You're always busy – between work, your kids, your parents, and your spouse, there just aren't enough hours in the day. And with everything on your plate, you don't have a minute to lose when it comes to getting quality dental care. You're looking for a practice that will treat your children, you and your spouse, and your own mom and dad, too – and you want someone with a great personality, as well as expert dental know-how. What dentist in Tulsa has everything you're searching for? Glisten Dental is the practice for you. In this post, find out why dental care is important for patients of all ages.
Why Is Dental Care Important For Kids?
Dr. Angie Nauman is a mother of five, and she knows how important it is to teach kids the right habits while young to set them up for a lifetime of dental success. As a member of the American Dental Association (ADA), she knows that dental problems can arise as soon as teeth show up in the mouth.
Kids are especially prone to tooth decay and cavities because of developing hand-eye coordination and the copious amounts of sugar they face each day. Since this is the case, the ADA and Dr. Nauman recommend scheduling your child's first visit no later than their first birthday. Dental sealants from your family dentist in Tulsa, OK can protect hard-to-reach molars from enamel problems and keep your kids smile healthy and bright.
Why Is Dental Care Important For Adults?
Adults usually deal with two common dental problems – tooth decay and gum disease. By the time you reach adulthood, you've most likely had at least one cavity, so it's important to prevent cavity-related problems like oral infections that require root canal therapy.
And, since half of Americans suffer from some form of gingivitis or advanced gum disease, it's important to stay on top of your oral health. If you take good care of your teeth at home, and see Dr. Nauman at least twice a year for preventive care, you can avoid tooth loss and dentures as you age.
Why Is Dental Care Important For Seniors?
Nothing escapes the effects of aging, even your teeth. As you enter your golden years, your teeth can become worn-out from everyday use. Seniors also face issues like dry mouth, periodontitis (advanced gum disease), missing teeth, and even oral cancer. And, many systemic diseases that seniors face, like diabetes, can impact your smile and cause tooth loss.
Because everything is connected in the body, you'll also reap the benefits of increased overall health if you maintain your smile correctly. You can reduce your risk of heart disease, atherosclerosis, and even Alzheimer's by seeing Dr. Nauman twice a year and taking good care of your oral health at home.
How Can I Take Care Of My Smile No Matter What Age I Am?
Dr. Nauman suggests the following for patients of all ages:
2x2x2 – Brush gently twice a day for two minutes – and floss when you brush. See your dentist at least twice a year for preventive care like exams and cleanings.
Eat Right – Cut out sugar since it causes tooth decay and enamel damage – this includes sweet beverages like sodas and fruit juices. Instead, load up on leafy greens and dairy that are loaded with calcium – and say cheese, because this treat can ward off cavities.
Don't Smoke – If you use tobacco products in any form, you're putting yourself at risk for oral cancer. Stop today – you'll eliminate bad breath and staining, and improve your overall health in the process.
See Your Dentist – Regular preventive care is essential, regardless of age, so see your dentist at least twice a year for professional exams and cleanings.
Now that you know why dental care is important no matter what age you are, schedule your appointment with Glisten Dental and keep your smile gleaming your whole life long!