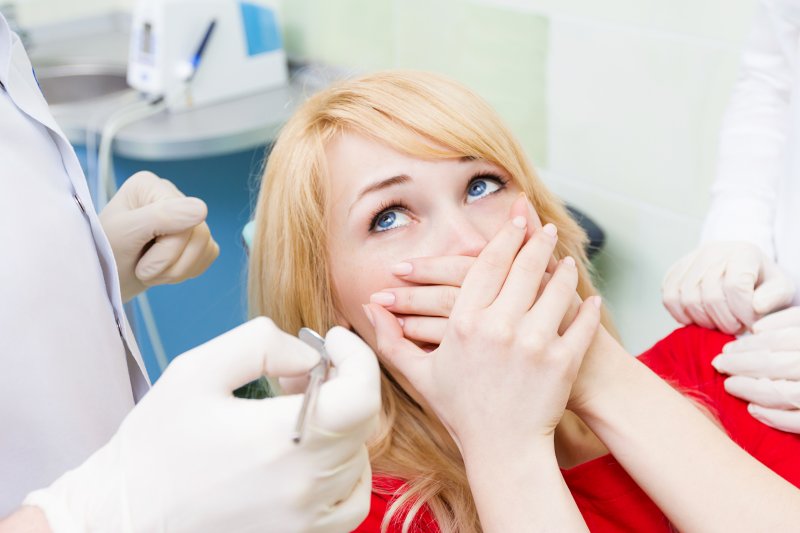 Are you contemplating putting off your upcoming dental appointment because you're worried you'll be judged by your dentist and team members? This common feeling is what keeps many adults from receiving the care they need to avoid more serious problems in the future. In reality, there is no need to be embarrassed at the dentist. Why? Because they're your friend and greatest ally when it comes to combatting tooth decay, gum disease, and even bad breath. Before you opt to hide in shame, learn what your dentist is really thinking and how they can help you on your path to better oral health.
Why You Shouldn't Feel Embarrassed
Just because you feel embarrassed by your smile doesn't mean you should just give up altogether and avoid seeing your dentist. In fact, your dentist in Tulsa has most likely seen cases much worse than yours. It's important to remember that dental professionals get into this industry to help patients, not make fun of them for problems that occur.
Unfortunately, when people see stained, broken, or missing teeth, a disapproving or displeasing reaction occurs; however, you do not need to worry about your dentist cringing, scowling, or chastising you. Will they offer helpful tips and techniques to use at home to improve your oral health? Yes. Will they recommend avoiding certain foods or changing your lifestyle habits? Yes. You must not misread constructive input for judgment. Believe that your dentist is the one person who wants to help you achieve better oral health and greater confidence in your smile.
What Your Dentist is Really Thinking
While you may be trying to read your dentist's face to determine what they're thinking when examining your smile, don't automatically assume their thoughts are negative. Instead, no matter how problematic your teeth and/or gums may be, trust that your dentist is glad you are there to seek treatment.
Far too many patients forgo twice a year checkups and cleanings, so by taking this proactive step to say, "I need help," your dental team will gladly provide the quality care you need. This is also why dentists offer more than just preventive services. They know problems can occur, which is why you will find a breadth of restorative, cosmetic, emergency, and complex services, each designed to address different aspects of your smile.
From placing a dental crown over your severely decayed tooth to inserting dental implants to replace missing teeth to brightening smiles with an available whitening treatment, your dentist is eager to provide the right solution to produce outstanding, longer-lasting results.
The next time you visit the dentist's office, set aside your insecurities. Trust that you've arrived at the perfect place to feel great about your smile once again.
About the Author
Dr. Angie Nauman has been working in the field of dentistry since 1994 and practicing since 2001. Receiving her dental degree at the University of Nebraska, she and her team at Glisten Dental understand you may be apprehensive about seeing a dentist, especially if you're embarrassed by the state of your smile. Whether it is decay, bleeding gums, chips, cracks, or stains, Dr. Nauman is available to take care of all these problems and many more. You never need to worry about being judged while visiting Glisten Dental. By taking a proactive approach in coming to see Dr. Nauman and her team, you are stating that you care and want better for your smile. Visit our website or call (918) 254-8686 and let us help you feel more confident in your appearance.