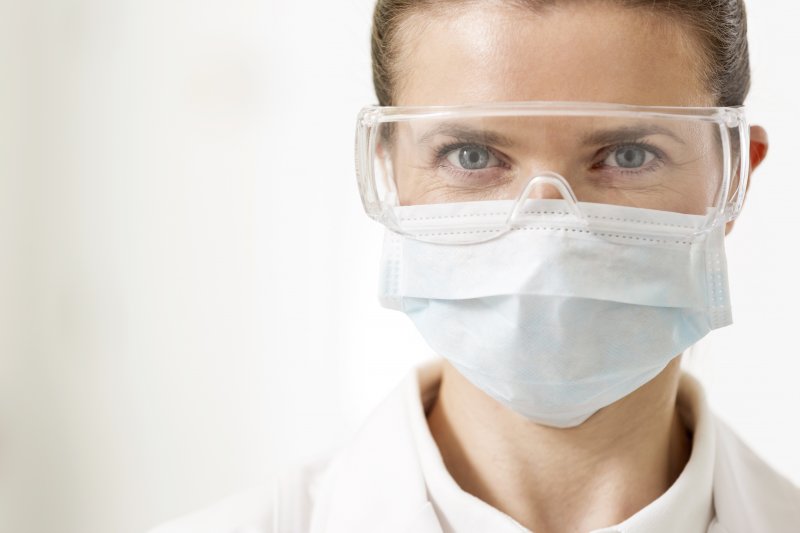 Before COVID-19, could you honestly say you knew what the term "personal protective equipment" meant? Unless you worked in the healthcare field, you likely wondered what PPE stood for and how it pertained to a rapidly spreading virus. Now that it has become common within households throughout the world, you may be curious to know how they are playing a role in other areas apart from hospitals and doctor's offices. In your local dental office, your dentist and team members are relying on these methods of protection to keep everyone better protected from harmful bacteria and airborne particles. So which ones are most important? Let your dentist in Tulsa explain.
Covering Your Hands: Gloves
Gloves offer protection for both you and your dentist. How? Consider this: If you have bacteria living in your mouth (which you do), it can be easily transmitted onto their hands, especially if they are bare. Should the dentist or hygienist have dirt under their nails or an open wound and perform dental work without proper protection, the bacteria from their hands can transfer into your mouth and cause serious oral and overall health problems. Gloves are the most effective way to keep germs from spreading to both parties, resulting in a successful, healthier visit.
Breathing Behind a Barrier: Face Mask/Shield
Although you won't be able to see the faces of your dental team when you arrive for your appointment, face masks and shields are necessary to prevent splashes and splatters of saliva and/or blood from spraying onto the face. There are far too many orifices (i.e. nose, ears, eyes, mouth) that can capture harmful pathogens should you be exposed. When it comes to COVID-19, these added layers block airborne particles from a patient's saliva, cough, or sneeze.
Keeping Clothes Clean: Disposable Gown
It is said that clothes can carry up to 30% of bacteria. When you consider how many people dentists and dental hygienists see each day, that number can grow higher, especially if the individual has poor oral health and a weakened immune system. To keep from passing these bacteria onto another individual outside the office, disposable gowns help to keep scrubs clean and exposed areas of the body better protected (i.e. forearms).
In fact, a dental safety protocol your dentist is implementing is to require all staff to change into work clothes when they arrive and change out before they leave to go home.
Safeguarding Your Sight: Protective Eyewear
Much like masks are designed to filter out dangerous particles and create a barrier between bodily fluids and the face, protective eyewear is made to protecting your eyes from infection. It should come as no surprise that the eyes are a vulnerable area of the body/face when it comes to COVID-19. After all, they can become easily irritated as a result of outdoor elements (i.e. sinus congestion and allergies). To ensure your dentist's eyesight remains in optimal condition to perform even the tiniest procedures, protective eyewear must be worn.
Although this level of precaution may be the "new normal" for a while, trust that your dentist is committed to maintaining nothing but the highest level of care and safety for all patients, including you.
About the Author
Dr. Angie Nauman has been working in the field of dentistry since 1994 and practicing since 2001. Receiving her dental degree at the University of Nebraska, she and her team at Glisten Dental are taking every precaution to keep you safe from COVID-19. From wearing personal protective equipment (PPE) to practicing social distancing to ensuring all staff and visitors are healthy and symptom-free, you can feel confident that when you arrive for your appointment, you are in good hands. For questions about what we're doing to maintain a clean and healthy environment, visit our website or call (918) 254-8686.