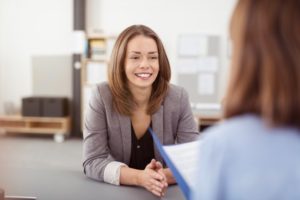 You've got an interview coming up for the job of your dreams. You couldn't be more excited. However, a small part of you is nervous about the cracks, chips, stains, or misalignment of your teeth. Will your interviewer think less of you? Will you not get the job because of a flaw in your smile? To avoid taking that risk, let's talk about some cosmetic dentistry options that can help you land the job.
Teeth Whitening
Teeth whitening is one of the most popular cosmetic services available today, and for good reason. Studies have shown that people with white teeth are seen as more confident, attractive, and successful, which is exactly how you want to appear during your interview. Your cosmetic dentist offers both take-home and in-office whitening to help you achieve the results you want in whatever approach you desire.
Invisalign
Perhaps you're self-conscious of your crooked teeth, and you're worried your interviewer will think less of you for it. That's why there's Invisalign – a set of clear plastic aligners that sit comfortably over your teeth to discreetly straighten them in less time on average than traditional braces. Essentially, you'll wear these aligners whenever you're not eating or cleaning your teeth. However, you can remove them temporarily for a big event, like your interview.
Tooth-Colored Fillings
Tooth decay, also known as cavities, is the second most common disease in the world, after the common cold. Still, you probably don't want everyone who meets you to know that you had dental work done. Thanks to tooth-colored fillings, that doesn't have to happen. These fillings are made of a composite resin that blends into your existing tooth enamel, seamlessly healing your smile.
Porcelain Veneers
If you have several different flaws in your smile and you don't know what kind of treatment is right for you, a good place to start would be with porcelain veneers. These super-thin porcelain sheaths are placed over your teeth to conceal imperfections like stains, chips, cracks, gaps, and even slightly crooked or rotated teeth. Each veneer is custom crafted to grant you with the gorgeous smile you deserve.
Direct Bonding
Direct bonding is like a combination of veneers and tooth-colored fillings. This simple procedure can mask stains, chips, and cracks, but also utilizes a composite resin. Your cosmetic dentist will apply this material to your teeth and then sculpt them into a more desirable size, shape, and color. Bonding is a quick procedure that can often be completed in a single appointment.
With all of these cosmetic dentistry options available, there's no excuse to not have the perfect smile in time for your job interview. Good luck!
About the Author
Dr. Sherry Stevens is an Invisalign-certified dentist who earned her doctorate at the University of Texas at San Antonio Health Science Center. Her professional memberships include the Pankey Institute Study Club, the Tulsa Study Club, the Seattle Study Club, the Academy of General Dentistry, the American Dental Association, and the Oklahoma Dental Association. Her Tulsa practice, Glisten Dental, offers all the cosmetic dentistry options described above. To learn more, click here to visit their website.