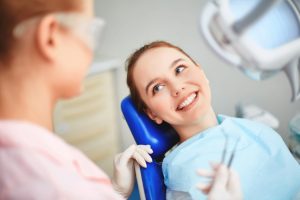 Inflamed, reddened, bleeding gums are signature signs of one of the most common oral health problems among American adults. It's Tulsa, OK gum disease or, in its mildest form, gingivitis. Dr. Angie Nauman at Glisten Dental and Sleep Apnea Care wants all her patients to have healthy gums and bright smiles;  so she teaches gum disease preventatives that everyone can practice daily.
Signs of Tulsa, OK gum disease
Gum disease often starts with very mild symptoms: some bleeding when you brush your teeth, gums that are a bit puffy and red, and maybe some bad breath. This condition, which your dentist or hygienist calls gingivitis, comes from improper brushing and flossing.
Brushing twice a day and flossing in between teeth daily removes the sticky plaque which forms from the carbohydrates we consume. This biofilm, if left untreated, hardens to rock-like, yellow tartar and pushes gum tissue away from tooth and root surfaces. The result is pus, redness and periodontal pockets that eventually destroy gums and bone, leading to tooth loss.
In fact, as mild gingivitis progresses to very serious periodontitis, teeth loosen, bite changes and systemic health problems occur. If you have advanced gum disease, you may also experience:
Type-2 diabetes
Hypertension
Stroke
Heart attack
Cardiovascular disease
Dementia or Alzheimer's Disease
Arthritis
Pregnancy complications
Low birth weight babies
In fact, the American Academy of Periodontology stresses that the correlation between periodontitis and overall health is too significant to be ignored.
What can you about gum disease?
Dr. Nauman says prevention is the best medicine for oral health and systemic health, too. So, to achieve pink, intact gum tissue and strong, bright tooth enamel, she advises the following:
Twice daily brushing and flossing. This at-home routine is a bottom-line gingivitis preventive.
Come to Glisten Dental and Sleep Apnea Care semi-annually for your oral exam and cleaning. Get that leftover plaque and tartar removed before it does damage. If damage has already occurred, Dr. Nauman and her team offer gentle tooth scaling and root planing to remove biofilm beneath the gums and to help them re-attach to root surfaces. Antibiotic instillation heals infection as well.
Eat a healthy, low-carb diet with calcium-rich dairy, high fiber breads, and lean meats. Plenty of fruits and vegetables are good for teeth and gums, as well as the waistline.
Drink plenty of water daily to wash tooth surfaces and to keep saliva flowing.
These guidelines apply to kids through senior adults. The sooner good oral hygiene habits begin, and the more consistently they are practiced, the healthier teeth and gums will be.
Is it time for your check-up?
If so, contact Glisten Dental and Sleep Apnea Care today for an appointment.