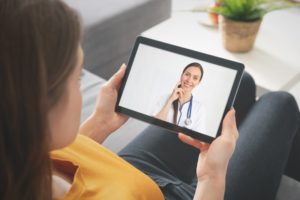 Telemedicine has been around for quite a while now, but it is becoming ever more important as people do their best to comply with social distancing recommendations. But what about dentistry? Can certain services be completed digitally? Yes. In fact, at Glisten Dental, we are now offering remote sleep apnea appointments. In this blog post, you'll learn more about the benefits of telemedicine and how we can get you on the path to better sleep without you having to visit our office.
Benefits of Telemedicine
Telemedicine allows medical professionals to talk to patients, and even make diagnoses, remotely. It can use phone calls, video conferencing, and medical monitoring devices to allow doctors and patients to stay in touch across great distances.
This type of care offers some significant benefits:
It is efficient. You can save time by sparing yourself a trip to a medical or dental office.
It is safe. Conducting appointments remotely when possible helps to protect both medical professionals and patients from COVID-19.
It increases access to care. If you live far away from your doctor's or dentist's office, or if you do not wish to leave your house because you are in the high-risk group for COVID-19, telemedicine can help you get care without leaving your home.
It's versatile. Telemedicine can be used for a broad range of purposes across different areas of medicine.
It is secure. Medical professionals are required to protect your information, and telemedicine is no exception. Telemedicine communication platforms have layers of security that minimize the risk of a data breach.
Telemedicine to Address Sleep Apnea
Obviously, your dentist cannot fill a cavity or take X-Rays via a video conference, but they might be willing and able to provide some remote services. For example, we are equipped to conduct sleep apnea appointments via telemedicine.
If you have been extra tired lately, or your partner complains that you snore, it is possible that you are suffering from a sleep disorder. Dr. Nauman can discuss your symptoms with you remotely and form an educated guess as to whether you have obstructive sleep apnea (OSA). She can also help you arrange to take a sleep study. For many patients, it is possible to undergo a sleep test in the comfort of their own bed instead of in a sleep laboratory. Then, if you are diagnosed with OSA, Dr. Nauman can help you start exploring your sleep apnea therapy options.
The coronavirus crisis has changed many aspects of daily life, including the way people receive medical attention. Fortunately, telemedicine provisions are available to help patients receive the care they need without leaving their homes.
About the Author
Dr. Angie Nauman is a general dentist with extensive experience in dental sleep medicine. In fact, she is board-certified by both the American Board of Dental Sleep Medicine and the American Sleep and Breathing Academy. If you would like to know more about the services she offers, or you are ready to schedule an appointment, contact our team at 918-254-8686.