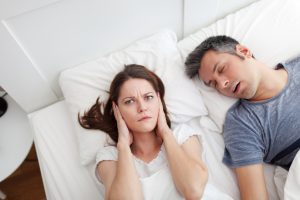 You keep repeating to yourself that you love your spouse. The words march through your mind over and over again. You hope the marching will eventually drown out their snoring. How can you love someone so much during the day and loathe them so much at night? Thankfully, you don't have to suffer anymore, because Glisten Dental and Sleep Apnea Care now provide easy, non-invasive snoring treatment in Tulsa, OK.
Causes of Snoring
The noise created by snoring is due to soft tissue in the mouth and throat obstructing the airway while the person is trying to breathe. This only occurs when the person is prone or has their head tilted backwards, such as with sleep. In order to compensate for this lack of airflow, the mouth usually opens and the typical snoring sound is created. Changes in position may momentarily relieve this, but it isn't a permanent solution. Genetics, excessive weight, and tobacco use are all factors associated with increased amounts snoring.
Snoring Treatment Options
Despite years of testing by faithful spouses, a firm smack with a pillow is not a long-term solution for snoring. While snoring at its best is just annoying, it can also be an indicator of a serious disorder called sleep apnea. Everyone who snores doesn't necessarily have sleep apnea, nor does everyone with sleep apnea snore. The only way to find out for sure is through a sleep test. A typical test would have a patient spent the night in a sleep center with sensors hooked up on their head and body in order to monitor their vitals and brain activity. For people who do not find laboratory conditions particularly soothing, there is a sleep test that can be implemented at home. This way you can come into the office after a full night's rest and we can evaluate what may be causing your snoring, as well as if it indicates that you have sleep apnea. Dr. Nauman may suggest an oral appliance to address either issue. The oral appliance is a custom made polymer mouth guard that alleviates snoring by slightly shifting your jaw forward so your airway stays open throughout the night. This will ensure a more restful, less interrupted evening of sleep for both you and your partner. Most people are able to speak clearly and drink with their mouth guard, so it shouldn't interfere with normal routines before bedtime.
Sleep Great Tonight
Whether it is you or your partner that snores, Glisten Dental and Sleep Apena Care has the solution for you. We can evaluate you individual situation so the best solution can be determined. Make an appointment today so can rest tonight. Save your pillows.