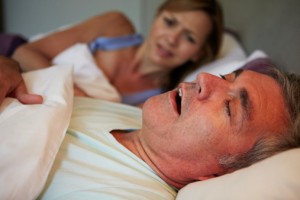 When you think of sleep apnea, you may envision snoring, a person wearing a CPAP mask, tossing and turning all night, or any number of unpleasant sleep-related images. More than 12 million people in the US suffer from sleep apnea (1 in 25 mean and 1 in 50 women over 30). This sleep disorder is commonly misdiagnosed or undiagnosed due to the inconsistency of symptoms for patients. Left untreated, sleep apnea can be extremely dangerous, and increase your risk for numerous systemic and chronic health issues. If you're worried you may be suffering from sleep apnea, contact Dr. Angine Nauman at our Tulsa, OK dental practice to find out more about sleep apnea risks and treatments.
Learn More About Sleep Apnea Risks, Tulsa
Sleep apnea occurs in two main forms: central sleep apnea (CSA) and obstructive sleep apnea (OSA). Both types of apnea involve the cessation of breathing during sleep. CSA occurs when the brain fails to signal the body to breathe at appropriate intervals. It is less common and should be treated by a medical professional, and may require extensive study to diagnose and treat properly. OSA is much more common and occurs when the muscles in the throat relax while you sleep blocking your airway.
Whenever breathing stops due to apnea, your body will waken you in an attempt to restart natural breathing. These repeated awakenings throughout the night prevent you from entering your restorative sleep cycle that helps replenish lost nutrients and repair damage done throughout the day. This is also the time your body devotes to healing if you are sick. When you do not regularly enter the restorative sleep cycle, the amount of time it required to repair damaged muscles, bones or skin cells, return to optimal health after illness, and numerous other bodily repair functions is extended.
At Glisten Dental our dedicated team is here to help you sleep better. We treat patients with OSA, and we can often help you sleep soundly using a small dental appliance to move your lower jaw forward keeping the airway open throughout the night. It all starts with a sleep study. If you believe you may suffer from OSA, we can recommend a trusted sleep specialist who can schedule an in-office, overnight study. If you're not sure you have apnea, we can help you find an at-home pre-screening test to determine whether you should invest in a full sleep study.
It is essential that you seek assistance in treating OSA as there are numerous associated health risks. Patients who suffer from OSA often experience three major types of health concern:
Exhaustion – Patients suffering from OSA often wake feeling unrested because their body has woken them repeatedly throughout the night to restart breathing. Patients who suffer from severe exhaustion often report difficulty concentrating, loss of memory, mood swings, and other cognitive and behavioral changes. Additionally, snoring, wheezing and heavy breathing caused by OSA can keep people you share space with up at night as well affecting their ability to get a restful night's sleep.
Cardiovascular disease – Patients with OSA are more likely to suffer from cardiovascular disease for a number of reasons. The stress placed on the heart by the repeated bodily exertion to restart breathing throughout the night, can lead to atrial fibrillation. Additionally, low blood oxygen levels can lead to increased blood pressure, and raise the risk for heart attacks and strokes.
Immune System Impediments – Your immune system works to restore health to your body during your natural, restorative sleep cycle. Repeated inability to undergo the restorative sleep cycle can lead to weakened immune system response which is especially dangerous for patients who suffer from chronic illnesses like diabetes.
Contact Your Tulsa Sleep Apnea Complication Specialist
Even if you only suspect you're suffering from sleep apnea, it never hurts to find out more. Call to schedule a consultation with Dr. Nauman, and the trusted sleep apnea treatment team in Tulsa, OK at Glisten Dental. Let us help you sleep soundly. We happily provide sleep apnea consultations and treatment for patients from Tulsa and surrounding areas including Broken Arrow, Bixby, Leonard, Jenks, and Coweta.