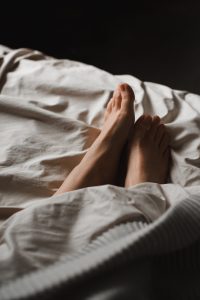 If your physician suspects you have sleep apnea, they will recommend additional testing to confirm their suspicions. A sleep study is often needed, which will involve monitoring you during the night. You will be required to visit a special sleep facility to allow them to track the oxygen levels in your blood, heart rate, and other factors necessary to make a proper diagnosis. Since you'll be away from home for the evening, here's how to best prepare for your sleep test in Tulsa.
What Can I Expect During a Sleep Study?
You'll be scheduled for an appointment at an overnight sleep facility. You can expect to spend about 12 hours there where you'll undergo diagnostic medical testing while you're sleeping. The medical equipment will gather information about your oxygen levels, heart rate, eye movements, and other factors using noninvasive methods.
Your doctor will give you any additional information that may be necessary to prepare for your sleep study.
How Can I Prepare for My Sleep Study?
If you're being tested for sleep apnea in Tulsa, your physician will discuss a few tips to help you prepare for your appointment, such as:
Sleep Diary: A diary will track your sleep schedule and your quality of sleep during the weeks leading up to your study.
Medication: Communicate with your physician about any medications or supplements you're taking to ensure the results of the testing are accurate.
Pack a Bag: You'll need an overnight bag to take with you to the sleep facility. It's best to pack comfortable clothing and any necessary toiletries.
Relax: It can be difficult falling asleep in a different environment, so you'll need to reduce your risk of insomnia by taking the time to practice relaxation methods. Relaxing will also help prevent any anxiety that might stop you from dozing off.
What Do I Do the Day Before My Sleep Study?
The day before your appointment, ensure you have your insurance cards, medications, and overnight bag ready to go. You'll be advised to avoid any caffeine after 2 p.m. on the day of your study. It's also best to stop any alcohol consumption.
You can follow your normal daily routine; however, avoid napping during the day, which can make it difficult to fall asleep. Be sure to eat a good meal before you leave for your appointment.
Sleep Soundly Tonight
Don't let anxiety about your upcoming sleep study keep you awake at night. You can help calm your nerves by taking the time to prepare for your appointment. If you have any questions or concerns, don't hesitate to contact your doctor for clarification. You can feel confident you're on your way to getting a restful night's sleep.
About Dr. Angie Nauman
Dr. Nauman earned her dental degree at the University of Nebraska. She has continued her training to become board-certified in dental sleep medicine. As a member of the American Sleep & Breathing Academy, she has the qualifications you can trust for sleep apnea therapy. Contact our office today to schedule your consultation.