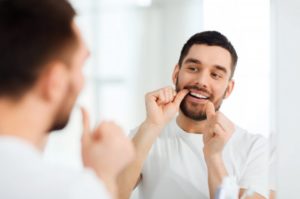 Gum disease is a lot more common than you might think. Nearly half the adult population of the U.S. will contract it at some point. It's also one of the main causes of tooth loss. Fortunately, it's entirely preventable. Since September is National Gum Care Month, let's take a closer look at why gums are so important and what you can do to keep gum disease at bay.
Why Are Your Gums So Important?
Without your gums, your teeth would hardly be able to stay in place. Your gums protect the sensitive roots of your teeth from being exposed to potentially painful stimuli, like extremely hot or cold foods and beverages. If you don't properly take care of your gums with regular brushing, flossing, and checkups with your dentist, you may contract gum disease. Your gums can recede and more of your teeth's surface area becomes exposed. This may result in loose teeth and even teeth that fall out!
What Is Gum Disease?
Gum disease has two stages – gingivitis and then periodontal disease. It starts with a bacterial infection in the gum tissue, which can result in the following symptoms:
Red or swollen gums
Bleeding gums when brushing or flossing
Receding gumline, making teeth appear "longer"
Loose teeth
If gingivitis progresses into full-fledged periodontal disease, it can result in problems not only in your mouth, but in other parts of your body too. Gum disease has been linked to conditions like:
Heart disease
Dementia
Diabetes
Birth complications
The exact reason for the connection is hotly debated among dental health professionals. One popular theory states that when oral bacteria create pockets in the gums, they can reach the bloodstream and set off a chain reaction of inflammation throughout the body, leading to other diseases. This is why it's important to keep gum disease at bay by practicing excellent oral hygiene.
How Can You Take Care of Your Gums?
The good news is that caring for your gums is pretty similar to taking care of your teeth. Regular brushing and flossing are a must. In fact, flossing is the best way to keep your gums healthy. It removes plaque from along the gumline that can cause infection. Brushing is also beneficial, but be sure not to brush too hard. Applying too much pressure can actually damage the gums. Think of brushing more like polishing an eggshell rather than scrubbing your teeth.
The other main component of having healthy gums is making regular trips to your dentist's office. That way you can get a professional cleaning every six months. You can also get gum disease diagnosed and treated early on. This National Gum Care Month schedule a checkup with your dentist if you haven't already. It could save your life.
About the Practice
At Glisten Dental & Sleep Apnea Care, Drs. Angie Nauman and Sherry Stevens provide quality dental care as well as sleep apnea treatment. Dr. Nauman has even been double-Board Certified in dental sleep medicine. They also offer periodontal therapy to treat gum disease. If you suspect you have gum disease, don't hesitate to contact the office at (918) 254-8686.