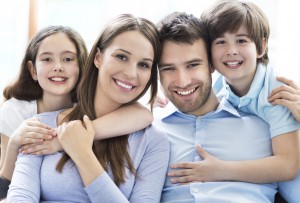 Dr. Nauman and the team at Glisten Dental may be at new address, but the service offered is the same—exceptional dental care for you and your entire family. As a general dentist, Dr. Nauman is dedicated to providing an individualized treatment plan that prevents oral and dental health problems. In addition, she and her staff treat patients whose sleep is disrupted by snoring or sleep apnea. So, Dr. Nauman truly is the general dentist Tulsa, OK, residents can count on for basic dental needs, as well as specialty services you might not find at another dentist's office.
The General Dentist Tulsa, OK, Trusts
A number of basic dental services fall under the umbrella term of general dentistry. Together, they are meant to help you and your family members both young and old enjoy a smile that is not only healthy, but attractive, too. We begin with a dental checkup that includes your biannual cleaning and exam. With this baseline, Dr. Nauman can determine the other treatments you may need to maintain optimal oral health and a beautiful smile. These can include:
Dental Sealants
Fluoride Treatments
Dry Mouth Treatment
Brain Pad Mouthguards
Night Guards
Sleep Apnea Care
Sleep apnea is a medical condition that is marked by interruptions in breathing throughout the night. One of the most common symptoms of sleep apnea is loud snoring. This happens when air vibrates tissue in the throat. In the case of sleep apnea, the tissue partially blocks your airway. Other symptoms of sleep apnea include:
Morning headaches
A sore throat
Gasping for breath while sleeping
Frequently needing to urinate during the night
Daytime drowsiness
Depression or moodiness
Difficulty concentrating
If any of these symptoms are plaguing you or the person who sleeps next to you at night, then mention this to Dr. Nauman during your dental checkup. She can arrange for you to have a sleep study to determine the cause of a sleep disorder. For many patients, wearing a comfortable oral appliance can restore restful sleep. The appliance gently shifts your tongue and lower jaw slightly forward in order to keep your airway open.
Call Our Office Today
If you are looking for a general dentist to care for your family, then contact Dr. Nauman at Glisten Dental. Our Tulsa office is happy to provide general dentistry services as well as sleep apnea therapy to patients from Bixby, Sand Springs, Jenks, Sapulpa, Owasso, Broken Arrow, Claremore, Okmulgee, and all surrounding communities.