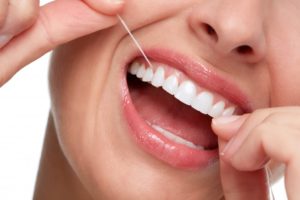 Over the years, you've probably heard your dentist tell you to floss, but why? Lately, people have begun to doubt the importance of flossing. What's worse is that there are misinformation and myths being spread about flossing that simply isn't true. Keep reading to learn about some common myths surrounding flossing and how to properly floss. That way, you can always stay on top of your oral health.
Myth #1: Flossing is Difficult
While flossing may have been difficult for the younger population or those with dexterity issues, it's now easier than ever before! If you struggle with normal floss, ask your dentist about a proper flossing technique. Additionally, you can use floss picks or a water flosser if you aren't confident in your flossing ability. These tools can make flossing easy—even if you have arthritis or have trouble with your hands.
Myth #2: I Should Only Floss When There's Food Caught in My Teeth
While floss can provide you relief for an annoying piece of food stuck in your mouth, it also removes plaque and bacteria from in between your teeth. If this plaque isn't cleaned, it can lead to cavities, decay, and gum disease. That's why you should floss once a day, no matter what.
Myth #3: I Should Stop Flossing if My Gums Bleed
Seeing blood when you floss may be a little startling, but it shouldn't cause you to give up this healthy habit. Bleeding gums can be an indication that your flossing too aggressively or that you may have gum disease. Either way, you should see your dentist to discuss proper flossing technique and the health of your gums.
Myth #4: Flossing is Painful
Those with gum disease may find flossing painful at first, but over time it will begin to get better. If you feel pain when you floss, you should try changing your floss and avoid forcing it down in between your teeth.
Myth #5: Flossing Makes Gum Recession Worse
Some think that flossing can make your receding gums worse, but in reality, it can actually prevent gum recession! Plaque and bacteria that flossing cleans away is a leading cause of gum disease, which leads to receding gums.
How Can I Properly Floss?
To get the most out of your flossing routine, check out some easy tips on proper technique:
Use around 18 inches of floss and wrap it around each of your middle fingers, leaving space to floss with.
Use your thumbs to guide the floss gently up and down between teeth.
Curve the floss in a "C" shape around the base of each tooth to clean your gums.
Use clean sections of the floss as you move through your smile.
Now that you know some of the most common myths of floss, use these proper flossing tips to take care of your teeth for a better looking and feeling set of pearly whites.
About the Practice
Dr. Sherry Stevens and Dr. Angie Nauman are a team of dentists who have a passion for providing quality care to their patients in Tulsa. They believe in patient education, which is why they want you to know why flossing is important. They currently practice at Glisten Dental & Sleep Apnea Care, and they can be contacted through their website or by phone at (918) 254-8686 for any questions.