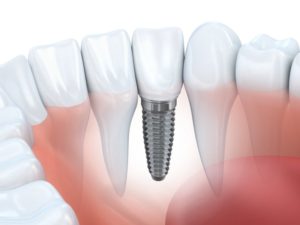 Your smile looks as natural as it feels; people you meet for the first time can't tell you've had any dental work done. You've been able to go back to your favorite restaurant without worrying about whether you could eat whatever you wanted. You can hardly believe that just a little while ago you were struggling with a broken tooth! Dental implants are often an excellent solution for repairing teeth, but like your real teeth, you need to put the extra effort in to make sure they last as long as possible. Here's what you need to know about taking care of your new "teeth."
Remember to Brush and Floss Daily
Just like natural teeth, brushing twice a day keeps bacteria from building up on and around your implant. A soft-bristle toothbrush and a low-abrasive toothpaste work best; you can use either a manual or electric toothbrush. Don't forget to brush under and around the implant crown. Flossing is also essential for cleaning around the abutments of the implant.
Use Other Oral Hygiene Products Recommended by Your Dentist
In some cases, your dentist may prescribe antimicrobial mouth rinse, which is more powerful than over-the-counter mouthwashes. Be sure to listen to all suggestions and take note of any special care instructions.
Pay Attention to What You Put In Your Mouth
Dental implants are durable and can last a long time, but they're not indestructible. Avoid biting on hard objects like fingernails or pen tips, and don't open any containers with your teeth.
Treat Your Implant Like You Treat Your Real Teeth
Habits that are good for your teeth are good for your implants—and vice versa. Eat plenty of fiber-filled fruits and vegetables, and try to stay away from candy and other sugary foods that can lead to plaque buildup. Smoking can cause a lot of harm to your mouth as well and should be avoided at all costs.
Don't Forget to See the Dentist!
Your dentist will examine your implants during your regular dental visits; in some cases, you may need to come in 3 or 4 times a year for additional maintenance. X-rays can be used to examine the inside of your gums and make sure that the implant is firmly in place and that the different components are functioning properly.
Dental implants can potentially last a lifetime if well cared for and in many cases can be the best option available for tooth replacement. But like all forms of dental care, it largely depends on taking the time to properly clean your mouth and making sure you avoid harmful behaviors or substances. Be sure to speak with your dentist about questions or concerns regarding your dental implant maintenance.
About the Practice
At Glisten Dental & Sleep Apnea Care, Dr. Angie Nauman and Dr. Sherry Stevens provide exceptional dental services along with dedicated therapy for sleep apnea. Dr. Nauman has received advanced training in laser dentistry, Invisalign, orthodontics, and is double Board-Certified in dental sleep medicine. If you have questions about dental implants or caring for them, visit the practice's website or call (918) 254-8686.