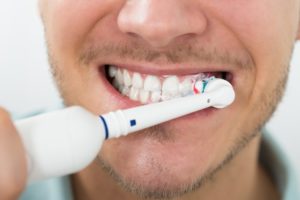 October might be the month where the most cavities are formed, due to the high consumption of candy around Halloween. To combat this, October was named National Dental Hygiene Month! It's an entire month dedicated to learning how to better take care of your teeth and gums. Let's take a moment to learn about 5 ways you can celebrate this month in style.
1. Brush Twice a Day
Besides not brushing often enough, many people don't brush all areas of their teeth. It's crucial that you clean not only the chewing surfaces, but the front and back of your teeth as well. Additionally, it's important to brush for two minutes at a time, which is a little longer than you think. To give you an idea of how long you need to brush, set a timer or queue up a two-minute song or YouTube video while you brush. Don't forget to brush your tongue too to freshen your breath!
2. Floss Every Day
Flossing is the only way to clean two of the five surfaces of your teeth. You wouldn't only clean three-fifths of your house or your car, so why do that with your teeth? Make sure to floss at least once a day. Ideally, you should floss before you brush. That way the spaces between your teeth are more open to receiving the benefits from your toothpaste.
3. Rinse with Mouthwash
Here's a fun fact: your teeth alone account for less than half of your mouth. That means that just brushing and flossing isn't enough to keep your mouth as clean as it should be. Add rinsing with an antibacterial mouthwash to your oral hygiene routine. Just make sure to avoid mouthwash with alcohol, as that could give you dry mouth and actually increase your risk of tooth decay.
4. Chew Sugar-Free Gum
Although it might be hard to brush and floss in the middle of the day, you can still keep your teeth clean by chewing sugarless gum for 20 minutes after a meal or snack. Studies have shown that doing so increases the amount of saliva in your mouth, rinsing your mouth of excess bacteria and food particles. Pack a stick of sugar-free gum in your lunch and chew it after eating to keep your mouth clean and your breath fresh.
5. Visit Your Dentist Every Six Months
Twice a year, you should be seeing your dentist for a checkup. A dental hygienist can give you a professional cleaning and polish your teeth to make your smile shine brighter. Moreover, your dentist can check for small issues like cavities before they worsen and turn into problems that require more extensive and costly procedures. Going to the dentist twice a year can actually save you money!
Now that you are aware of these dental hygiene tips, hopefully you can start implanting them into your daily routine. It's the best way to celebrate National Dental Hygiene Month!
About the Author
Dr. Angie Nauman is a double Board-Certified dentist in Dental Sleep Medicine, meaning she is an expert at treating sleep apnea. She has been practicing dentistry since 2001, and currently practices at Glisten Dental & Sleep Apnea Care in Tulsa, OK. There's nothing she loves more than helping her patients smile brightly, and she firmly believes that practicing regular dental hygiene can certainly help that. For more dental hygiene tips, don't hesitate to contact Dr. Nauman's office on her website or call (918) 254-8686.