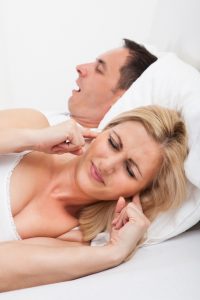 Everyone snores from time to time, which is caused from the soft palate, tongue, or throat relaxing while sleeping. There are various factors that increase the occurrence of snoring, such as your mouth's anatomy, nasal problems, and your sleep position. While most snoring is harmless, snoring can also be a sign of a serious and potentially dangerous underlying problem. Chronic snoring is the most notable symptom of obstructive sleep apnea. Obstructive sleep apnea is a sleep disorder that causes pauses in breathing numerous times while sleeping. When left untreated, your life could become at risk. As your dentist for sleep apnea in Tulsa Ok, Dr. Nauman has the facts you need to know about this serious condition.

Understanding Sleep Apnea
Loud, chronic snoring is the first sign of sleep apnea due to the collapsing of the airways; however, it is not the only sign. Other symptoms of the condition include waking with shortness of breath and waking choking or gasping for air. In addition, it is not uncommon to wake with a sore throat or dry mouth. Many experience morning headaches, daytime fatigue, irritability, and attention problems.
The symptoms and complications of sleep apnea result from the soft tissues of the mouth and throat collapsing, causing an obstruction in the airway. The tissues collapse to the point the air passages become extremely narrowed. As a result, there is no longer enough airflow, which causes breathing to become interrupted. These pauses occur multiple times per night. In fact, they can occur as much as 100 times per night with the potential to last for over a minute with each pause.
The lack of adequate oxygen flow will take a toll on the body as time progresses if the condition is not treated. Untreated sleep apnea is directly linked to causing cardiovascular problems, as well as diabetes and weight gain. Overtime, lack of adequate sleep will cause sleep deprivation, which decreases quality of life and increases the risk for auto and workplace accidents.
Treatment for Sleep Apnea in Tulsa OK
If you suffer from chronic snoring or experience any other symptoms of the sleep disorder, you need to undergo a sleep study at our sleep center. After analyzing the data from the study, Dr. Nauman will provide an appropriate diagnosis and treatment.
Dr. Nauman provides treatment for obstructive sleep apnea using oral appliances. An oral appliance is a custom-made device that is similar to a mouthguard. You will wear the appliance over the teeth while you sleep to reposition the jaw. By moving the jaw forward, the airways are kept open to prevent the airways from collapsing. This device is also effective for those who suffer from other snoring issues.
No matter if you need sleep apnea or snoring treatment in Tulsa OK, Dr. Nauman at Glisten Dental & Sleep Apnea Care has the solutions you need to sleep soundly. As a sleep specialist, Dr. Nauman will find the underlying cause of your snoring to provide the appropriate treatment.
If you suspect you have sleep apnea, please contact our office to learn more about our sleep testing center at (918) 528-7562.