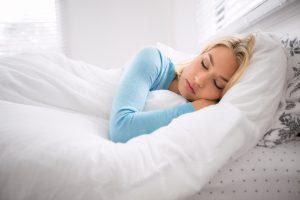 If you have sleep apnea, daily fatigue isn't the only concern of not getting any treatment. Obstructive sleep apnea (OSA) can affect your health and quality of life. While you might know about the increased risk of heart disease and diabetic complications, those aren't the only dangers. Recent studies have found a connection between sleep apnea in cancer women. Here's what you need to know about your risk.
Sleep Apnea and Cancer Risk in Females
OSA is a common condition that occurs when an obstruction in the upper airway causes frequent interruptions in breathing while sleeping. It's most often caused by the soft tissues in the back of the mouth and throat collapsing as the muscles relax. The ongoing depletion of oxygen can negatively affect your health in several ways, like increasing your risk of heart attack and stroke. Your mental health can also decline as sleep deprivation occurs. Poor sleep quality can increase your risk of workplace and auto accidents as well, but there's another reason to worry.
A recent study published in the European Respiratory Journal collected data from 20,000 adults with sleep apnea. They used information from the European Sleep Apnea Database, which included the medical records of adults at 33 centers throughout Europe. Researchers found that 2% of female participants had cancer in their medical history compared to only 1.7% of men.
While this doesn't prove sleep apnea can cause cancer in females, there is a clear connection. However, researchers also reported the link may be attributed to other factors, like obesity, smoking, and alcohol consumption– all of which contribute to sleep apnea and cancer.
Lower Your Risk with Oral Appliance Therapy
More research is needed to understand the direct correlation between the two. In the meantime, it's important to manage your sleep apnea using an effective treatment.
Traditionally, a CPAP machine is used to treat sleep apnea. A steady stream of air pressure is delivered through a mask worn over the mouth or nose to keep the airway open, but it can be bothersome for some patients.
As an alternative, an oral appliance is suitable for patients with mild-to-moderate cases of OSA. The custom-fit device repositions the lower jaw and tongue to prevent narrowing of the airway. When used consistently, many patients report over a 90% improvement in their symptoms.
You'll sleep better while maintaining your oxygen levels to support your health. When combined with a healthy lifestyle, you can lessen your risk of various problems linked to sleep apnea, including cancer.
Sleep Peacefully Tonight
Don't let anxiety about your future keep you awake at night. Your dentist has the solutions you need to breathe better and sleep soundly.
About Dr. Angie Nauman
Dr. Nauman earned her dental degree at the University of Nebraska and regularly continues her training in advanced specialties, like sleep medicine. She is a member of various professional organizations, including the American Board of Dental Sleep Medicine. If you need sleep apnea therapy, contact our office today to schedule your consultation.