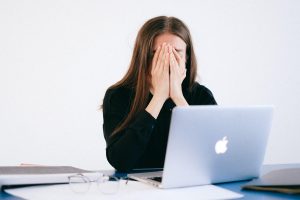 Anxiety and sleep apnea are two common conditions, but they differ significantly. Sleep apnea is a disorder that most often results from an obstruction in the airway that leads to pauses in breathing. Anxiety is caused by your body's reaction to stress. You might not expect a connection between the two conditions because of their differences; however, research shows a direct link. Here's what you need to know to calm your nerves and get the rest you need.
Sleep Apnea VS Anxiety
At least 22 million Americans have obstructive sleep apnea, but up to 80% of people are undiagnosed. It is often caused by an obstruction in the airway from the soft tissues in the back of the mouth and throat collapsing. This can result in hundreds of pauses in breathing frequently throughout the night. Not only can it cause chronic snoring and daytime fatigue, but it can affect your mental and physical health, too.
Unlike sleep apnea, anxiety affects almost everyone when feeling overwhelmed by daily stressors. Your body's response to stress can make you feel fear, dread, or uneasiness. Unfortunately, a rapid heartbeat and tension aren't the only concerns. According to a European medical journal, more than half of patients with sleep apnea also have some degree of anxiety and depression.
Connection Between Anxiety and Sleep Apnea
Sleep apnea and anxiety do not cause one another or contribute to the severity of the conditions. Instead, studies have found anxiety and sleep apnea to go hand-in-hand because of insomnia. Difficulty falling and staying asleep is a symptom of both conditions. It can be nearly impossible to get a good night's rest when living with sleep apnea because the frequent pauses in breathing interrupt your sleep cycles. Poor sleep quality is linked to several issues, including depression, anxiety, and difficulty concentrating.
If you're tossing and turning at night, you might dread going to bed. When combined with daily stressors, anxiety levels can soar. Each interruption in sleep makes it more difficult for your body to deal with stress, which can affect your mood and thinking pattern. Your body won't heal from everyday stressors, causing your mind to be flooded with worrisome thoughts. The ongoing cycle can increase your sleep debt, significantly decreasing your quality of life.
Relax and Sleep Better Tonight
Thankfully, the solution to sleeping peacefully and managing your anxiety is simple. An oral appliance is a comfortable, custom-fit device that repositions your lower jaw forward to keep the upper airway open. You'll sleep peacefully to get up in the morning feeling your best.
About Dr. Angie Nauman
After earning her dental degree from the University of Nebraska, Dr. Nauman continued her training to focus on dental sleep medicine. She is double Board-Certified in Dental Sleep Medicine. She is a member of various professional organizations because of her career excellence, including the American Board of Dental Sleep Medicine. If you're ready to treat your sleep apnea and manage your anxiety, contact our office today to see if you're a candidate for oral appliance therapy.