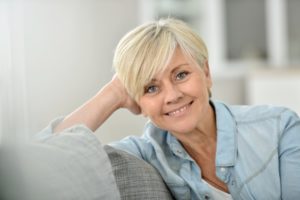 You've had to endure some undesirable lifestyle changes since you lost your teeth, but with a new set of prosthetics, you now have the opportunity to once again lead a normal life, which includes eating the foods you love, speaking with clarity and smiling with confidence. Still, adjusting to dentures in Tulsa can be a challenge at first, so here are 5 simple tips to aid in a smooth process.
Tip #1 – Know What to Expect
Any time you place a foreign object in your mouth, there could be temporary discomfort as your body works to recognize the new appliance and to make the necessary adjustments.
By being prepared for this and maintaining an understanding that any awkwardness is usually brief, you can better manage the acclimation period. The following will help you manage the situation:
You can remove your dentures every four hours to allow your gums and jaw a chance to rest.
Be sure not to skip out on nutritious foods that will contribute to better gum health.
When eating, start by chewing softer foods that place less stress on your gums.
Tip #2 – Use Music to Improve Your Speech
Another challenge that comes along with being newly fitted with dentures is learning how to speak with them. One method is to sing along slowly with your favorite song and to deliberately pronounce the words. Using this strategy, you can eventually adjust to having the dentures in your mouth; thus, you can speak clearly.
Tip #3 – Exercise Your Cheeks
Not only are your gums affected by being fitted with a new set of prosthetics, but it also requires your cheek muscles to be trained properly just like any other part of your body. By working to develop these muscles over the first few weeks of denture placement, you can gain more control when eating.
Tip #4 – Find the Right Dental Adhesive
When you speak with your dentist, be sure to ask for recommendations on the best options for dental adhesive to secure your dentures in Tulsa. Then you can experiment with the different types to determine which is best for you.
Tip #5 – Follow the Post-Extraction Care Plan
Before you are fitted with a custom-designed set of dentures, your teeth will need to be extracted. To foster healing, it's important to follow the post-extraction plan developed by your dentist. Whether it's taking medications or maintaining appointments, when you adhere to the plan, you create a better opportunity to be fully restored with functional and aesthetically-pleasing teeth.
If you are living without your teeth and desire to make a lasting difference with dentures, reach out to your dentist in Tulsa to schedule a consultation.
About the Author
For nearly two decades, Dr. Angie Nauman has been providing the best in dental care to patients in the Tulsa area. Still, she works tirelessly to expand her knowledge by taking continuing education courses annually in a variety of treatment areas. Dr. Nauman replaces missing teeth with dentures at Glisten Dental and Sleep Apnea Care, and she can be reached for more information through her website.